It's one of the world's greatest collections of oil drilling assets.
It pays a big dividend.
It's a top holding of legendary investor Carl Icahn.
And its share price has been killed.
I'm talking about Transocean (RIG), the world's premier owner and operator of oil drilling ships.
[ad#Google Adsense 336×280-IA]So is the stock a buy today?
The answer is not yet. But we're close.
Let me explain…
As I said, Transocean is the world's premier offshore oil drilling company.
It currently has a fleet of 79 drilling ships with several more on order.
These rigs can drill for oil in ultra-deepwater, deepwater, mid-water, and other harsh environments offshore.
Just over half of Transocean's rigs are for ultra-deepwater. These rigs can operate in water depths of several miles. Because they can drill deeper than most rigs, they're more valuable.
But recently, the ultra-deepwater market has been oversupplied.
For the past few years, countries like Brazil, China, Japan, Thailand, India, and the U.S. have been ramping up offshore drilling projects and spending billions of dollars in an effort to find crude oil in untapped areas.
So the number of ultra-deepwater rigs has grown, to the point where the supply is now outpacing demand. As a result, ultra-deepwater rig-utilization rates (which measure the amount of rigs a company is using out of its entire fleet) have dropped.
Investors fear this oversupply will affect offshore oil drillers' results going forward. So they have run for the exits.
Take a look at this chart of Transocean…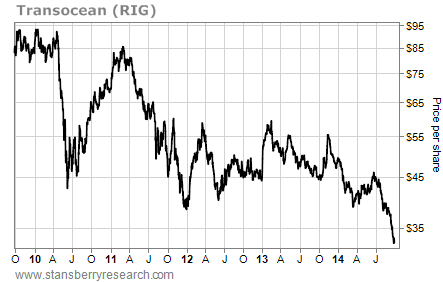 As you can see, Transocean shares are at a four-year low. After adjusting for dividends, shares are as low as they've been in 10 years.
But the pullback won't last for long…
You see, there's still big long-term demand in the ultra-deepwater drilling sector.
As my colleague Frank Curzio has shown you in these pages before, international oil companies are having a tough time finding oil. As a result, oil companies are spending more and more each year to find oil offshore. This will continue in the years ahead.
And the current oversupply is causing older rigs to be retired or "stacked." This will help level out the supply/demand balance as new drilling programs continue to be announced.
Transocean already has a strong backlog (sales orders waiting to be filled) of $25 billion and it will earn $16 billion of this through 2017. To put that number into perspective, the company had $9.6 billion in sales in the 12 months ended in June.
As major oil companies continue spending huge amounts on oil exploration in the years ahead and older rigs are retired, Transocean's order books will remain full.
And in the meantime, the company is working to improve its bottom line.
In November, Transocean announced it would put three of its drilling rigs into a master limited partnership that it then brought public.
Morgan Stanley liked the move. It said bringing Transocean Partners L.P. (RIGP) to market increased Transocean's financial flexibility. Transocean received $415 million from the initial public offering (IPO).
Then in August, Transocean granted RIGP the right to buy the remaining interests in the three ultra-deepwater ships RIGP controlled. In addition, Transocean will also offer RIGP the option to buy at least a 51% interest in four other ultra-deepwater ships within the next five years. This will result in even more capital flowing into Transocean.
Transocean is also working to improve its margins by $800 million by the end of 2015 through cost cutting and increased efficiency programs. These cost reductions are already adding to profits. After hitting a recent low of 35% in the fourth quarter last year, Transocean's gross margin (gross profit divided by total sales) jumped to 48% in the most recent quarter.
More important to investors, Transocean increased its annual dividend to $3 per share in November. That means Transocean is offering a big 9.2% yield today. For comparison, the average S&P 500 company yields just 1.9%.
And the company is cheap today at 6.5 times earnings. For comparison, the average S&P 500 stock trades at 19.4 times earnings and the average oil and gas driller trades at 10.8 times earnings.
Plus, legendary hedge-fund investor Carl Icahn likes the idea of owning shares. Icahn established a 5.8 million share position in Transocean through his Icahn Capital LP fund in 2012. Icahn increased that position to 20.5 million shares in 2013 and now owns 21.5 million shares… nearly 6% of Transocean's outstanding shares.
As the ultra-deepwater sector continues to grow, Transocean will be one of the biggest beneficiaries. And the recent pullback is giving us a great opportunity to get a premier offshore oil driller on sale.
But shares haven't bottomed yet. Before investing in Transocean, wait for an uptrend. You'll lose a couple bucks when the stock trends higher. But losing a couple dollars is better than losing a multiple of that if the stock keeps trending lower.
So add Transocean to your watch list today. The stock has big upside potential ahead.
Good investing,
Brian Weepie
[ad#stansberry-ps]
Source: Growth Stock Wire