In June, I told you the euro was about to be "trashed."
The trade lined up perfectly.
[ad#Google Adsense 336×280-IA]Normally, major currencies like the euro don't have big moves against the dollar. But if you took my specific advice, you should be sitting on a 9% gain today.
Now it's time to lock in that gain.
Let me explain…
Our thesis for betting on a lower euro was simple…
European Central Bank President Mario Draghi's mission is to boost the European economy.
And much like Ben Bernanke a few years before him, his best plan of action was to cut interest rates and print money… "trashing" the euro in the process.
Here's what I wrote back then…
Draghi needs to act fast… So he has taken pages out of former U.S. Federal Reserve Chairman Ben Bernanke's playbook.

He has cut interest rates below zero, stocks are up, and he hopes the economy will recover, too.

Draghi's plan is to "trash the euro." We will take what he's giving…

It's time for us to bet on a lower euro.
In addition, at that time, investors all thought the euro would continue higher. Specifically, "Trader Optimism" was at multiyear highs (as measured by my friend Jason Geopfert of SentimenTrader.com).
The contrarian bet was on a lower euro. We made that trade, with leverage, with the ProShares UltraShort Euro ETF (EUO).
EUO is up 9% in the three months since then. And now it's time to close the trade.
Why? In just three months, the entire story has changed.
The euro has gone from extreme optimism (which made us want to bet on a lower euro), to extreme pessimism now.
You can see this in the chart below. It shows the Commitment of Traders on the euro. Check it out…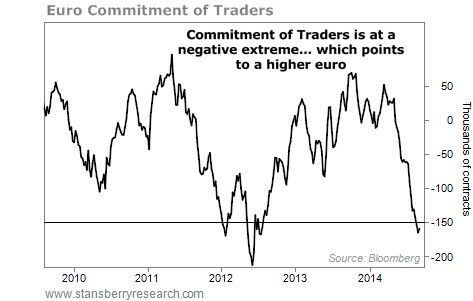 The Commitment of Traders – or COT – is a weekly report that shows the real-money bets of futures traders. When the COT shows traders are all betting on lower prices, the euro tends to bounce. That's exactly where we are today.
Sure, the euro could fall a bit more from here… But sentiment in the euro is now at a negative extreme – exactly opposite of where we entered the trade. And that shows that we've already made the easy gains. There's no low-hanging fruit left here.
The best thing to do now is to lock in profits. So that's what we'll do.
Shares of EUO are up 9% in just three months. Take it!
Good investing,
Steve
[ad#stansberry-ps]
Source: Daily Wealth