"The situation is in place for a dramatic recovery," Rick Rule told the audience.
I'm here in Vancouver – the heart of the resource-mining industry – attending the Sprott Natural Resource Symposium. It's a collection of the "best of the best" in the small-cap resource space.
I'm here for a simple reason… while major stock markets around the world have soared over the past few years, small resource companies have absolutely crashed. Falling well more than 50% as a whole.
[ad#Google Adsense 336×280-IA]But today, that means opportunity. Many of the brightest minds here expect the bottom is in, and prices have nowhere to go but higher.
Let me explain…
Rick Rule leads a pack of smart industry pros in Vancouver.
Rick's a multi-decade investor in the small-cap mining sector and the Chairman of Sprott U.S. Holdings – an arm of Sprott Inc., which manages $7.6 billion.
During his keynote presentation, he explained why he's excited about today's opportunity…
"A market down 75% is precisely 75% more valuable and 75% less risky."
What surprised me is that Rick wasn't a cheerleader. He simply explained the rational opportunity in the resource sector today. His big theme was simple…
"A bull market is coming. Don't waste it."
Of course, Rick takes a contrarian approach to investing. And right now, things are bad. Folks just aren't interested in resource investing…
Attendance at this year's Vancouver conference is at its lowest in years. And it has been in steady decline since the glut began in 2011. But at least they're still in business…
"The current challenged metals market has led us to make the difficult decision to suspend our events…"
That's from the Metals and Minerals Investment Conference website. Metals and Minerals is one of the largest resource-based conference groups, with events in New York and San Francisco.
The cause of all of this bad sentiment is simple. Small-cap mining stocks have crashed… If we take a look at the S&P/TSX Venture Index – where most small resource companies reside – the opportunity becomes obvious…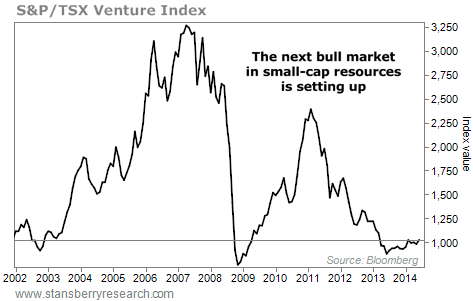 As you can see, this index of small resource companies has crashed over the past three years. It's now sitting near 2002 and 2008 lows… where the last two great bull markets began.
Importantly, the index has been rising over the last year. The index is up 17% since last June and 9% so far this year.
In short, no one is interested in small-cap resources. Major conference circuits have been canceled and the overall market is down 50%-plus over the last few years. Yet, the market is UP recently.
According to Rick Rule, today's opportunity is enormous. According to him, "expectations are so low that we can't help but succeed."
Yes, it'll likely be a bumpy ride. But if you have the stomach for it, small-cap resources seem to be poised to move higher.
With U.S. stocks reaching all-time highs, the best opportunities are in beaten and forgotten places. Resources fit that mold perfectly today. Don't miss the opportunity.
Good investing,
Brett Eversole
[ad#stansberry-ps]
Source: Daily Wealth