Ensco (NYSE: ESV) is a London-based oil drilling services company with rigs all over the world.
It pays a healthy 5.4% dividend yield. It has paid a dividend since 1998, but it wasn't until 2010 that management decided to return more money to shareholders. From 1998 until 2009, the company paid a miniscule $0.10 dividend per year. Then, in 2010, it bumped it up to a more respectable $1.40 per year.
Since 2012, it has raised the dividend three times to the current level of $3 per year or $0.75 per quarter.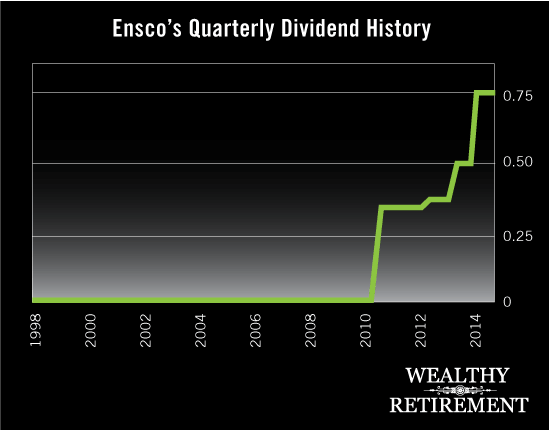 However, I'm not so sure it should be that high.
The Financials
When we look at Ensco's statement of cash flows, we see that the company generates a ton of cash from operating its business. That's a good thing.
[ad#Google Adsense 336×280-IA]Last year, cash flow from operations was $1.98 billion, down from $2.2 billion the year before but up from $732 million in 2011.
However, the oil drilling services business is capital intensive.
It costs a lot of money to fix old and buy new equipment.
As a result, capital expenditures (capex) eat up most of the cash flow from operations.
In 2013, capex was $1.78 billion, leaving the company with just $200 million in free cash flow.
I say "just $200 million" because it paid shareholders $526 million in dividends. In other words, it had to dip into its cash on hand in order to pay investors their dividends.
In 2012, the situation wasn't as bad. Ensco's free cash flow was $398 million, while it paid $348 million in dividends, leaving it with a $50 million buffer. The year before, it barely had any free cash flow.
And in 2014, the situation is expected to get worse as free cash flow is forecast to be negative due to an increase in capex.
In 2015, capex is projected to drop by about $500 million, which is the same amount that Wall Street predicts Ensco will generate in free cash flow. Remember, the company paid out $526 million in dividends last year.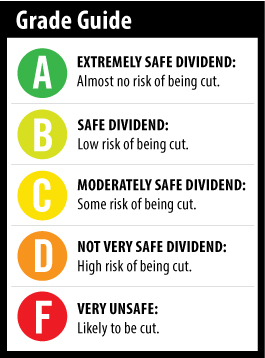 Unless the share count is reduced meaningfully, it will likely distribute at least that amount in each of the next few years, if it doesn't cut the dividend.
It's not until 2016 that free cash flow is expected to be significantly greater than the dividend.
With a track record of raising the dividend, which is good, but too short to be noteworthy in my book, and not enough free cash flow to cover the dividend for the next year and a half, I'm not confident Ensco's dividend is stable.
I don't suspect a cut is imminent, but there is some risk, especially if Ensco's results are worse than current projections.
If the company misses expectations, keep a close eye on it.
Dividend Safety Rating: C
— Marc Lichtenfeld
[ad#sa-income]
Source: Wealthy Retirement