Wall Street's "fear gauge" flashed a sell signal at the end of May.
But since then, the stock market has continued to work even higher. The S&P 500 hit a new all-time high last Friday. And some folks might be wondering if the sell signal is a bust.
It's not.
As you can see from the following chart, the Volatility Index ("VIX") once again closed below its lower Bollinger Band last Friday…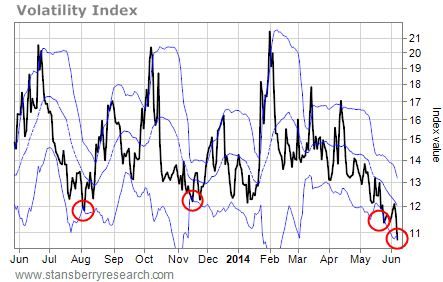 Once the VIX rallies and closes back inside its Bollinger Bands, it'll generate another broad stock market sell signal. That will be its second sell signal in about two weeks.
And this time, a couple other indicators are shouting "sell" as well…
Below, you can see the percentage of S&P 500 stocks trading above their 50-day moving averages (DMAs)…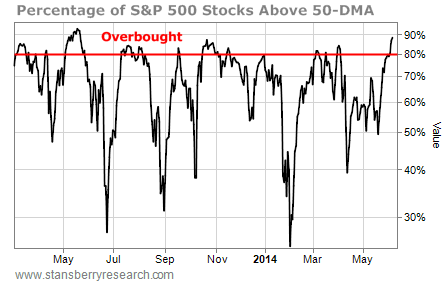 This chart is one way to measure overbought and oversold conditions. The range is from zero to 100.
[ad#Google Adsense 336×280-IA]Anything above 80 is considered overbought.
On Friday, this indicator closed above 88 – its highest reading since just about this time last year… right before the S&P 500 declined 5% in about a month.
This means that in the short term, the broad stock market is vulnerable to at least a mild pullback.
Also, consider this chart of the Bullish Percent Index ("BPI") for the S&P 500…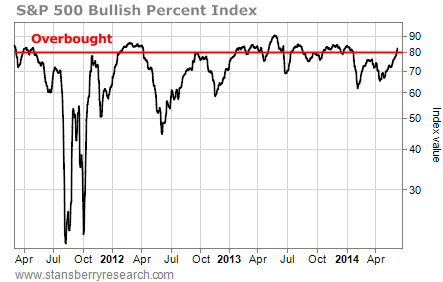 The BPI measures the percentage of stocks that are trading in bullish technical patterns. It's another way to measure overbought and oversold conditions. Generally, any reading above 80 is considered overbought.
The index closed above 80 yesterday. It's overbought. And it suggests investors ought to be cautious here.
As I mentioned two weeks ago, it's not time to put on aggressively short trades yet. The momentum is still on the side of the bulls. The market needs to fall and then bounce to form a lower high before we can get bearish.
But this also isn't the time to be plowing a bunch of new money into the stock market.
Stocks are overbought. They're extended to the upside. With the two recent sell signals from the VIX and the warning signs from other indicators, now is the time to be cautious.
The market is ripe for at least a short-term decline. Any further gains from here are likely to be given back.
Investors should get a better chance to buy sometime in the next few weeks.
Best regards and good trading,
Jeff Clark
[ad#stansberry-ps]
Source: The Growth Stock Wire