Two weeks ago, in DailyWealth, I told you NOT to sell tech stocks when we were up by 98%.
Now, two weeks later, we're up 109%.
Is it time to sell now?
My answer is simple… NO!!!
Let me explain…
Two weeks ago, I said:
As I write, subscribers to my True Wealth newsletter are up 98% on tech stocks…

Specifically, the ProShares Ultra Technology Fund (ROM) is up 98% since I recommended it in my newsletter just over three years ago.

Most investors would sell an investment that's up 98% in three years. But in my opinion, that's the wrong thing to do today… Our opportunity is still fantastic, even after 98% gains.
It is shocking to me that investors STILL haven't bought the big tech names yet – names like Apple and Google (which are the biggest stock holdings in XLK, the main tech-stock ETF).
[ad#Google Adsense 336×280-IA]I was shocked to see that investor sentiment toward tech stocks is near 12-month lows, according to my friend Jason Goepfert's excellent website, www.SentimenTrader.com.
I did a quick check myself of XLK – the main tech-stock ETF – to see if investors have been piling into tech stocks as the stocks have moved higher.
It turns out, investors have NOT been piling into tech stocks…
Interestingly, while tech stocks have been moving higher in price, investors have been getting less enthusiastic…
Specifically, the shares outstanding of XLK have gone down in recent months. Take a look: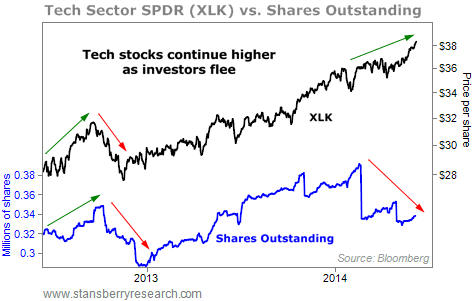 The shares outstanding of ETFs can rise and fall with investor enthusiasm… When investors are extremely excited, the shares outstanding go up. When investors are not that excited, shares outstanding can fall. Right now, investors are not that excited about tech stocks.
Tech stocks will peak when everyone is excited about them. Right now, we're seeing the opposite of that.
Yes, tech stocks have soared. Yes, subscribers to my True Wealth newsletter are up 109% on a tech stock ETF.
But I am not worried about where things have been. I'm thinking about where they're going…
Right now, I believe tech stocks have not peaked yet.
The big tech stocks are still reasonably cheap (as I explained two weeks ago), they are hated (as I've explained today), and they are still in an uptrend. All three criteria that I want to see are in place today in tech.
Don't be a seller of tech stocks today just because they've gone up… instead be a buyer. After 109% gains, we still have a great opportunity.
Good investing,
Steve
[ad#stansberry-ps]
Source: DailyWealth