"We usually close down for around five months every year," my waiter told me. I almost choked on my eggplant parmesan.
"It's not just us," he continued. "The whole town closes down by mid-November. It won't open again until mid-April."
My location is Positano, Italy. A small village built into the mountainside on Italy's Amalfi Coast. To say the location is picturesque would be an understatement. Here's the view I enjoyed from my villa…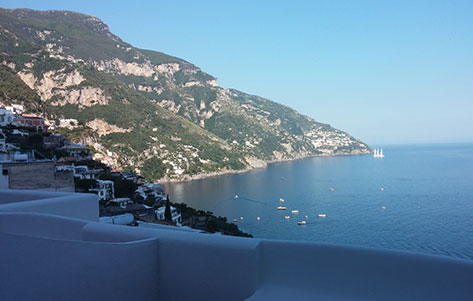 Positano was one of several stops I made while touring Italy's countryside over the last two weeks. In many ways, it's an extreme example of the long-term problems facing Europe.
[ad#Google Adsense 336×280-IA]You see, Positano is a town of less than 5,000.
It thrives on tourism.
Yet, the entire town closes down for roughly 5 months a year.
I found similar circumstances around the country…
Shops close for hours in the middle of the day.
And based on the folks I spoke with, everyone takes at least a month off work around August.
If you can find a job, that is.
I met a group of young Italians from Venice who explained that young people can't find work. Jobs don't exist. With a youth unemployment rate of over 40%, they seem to be correct.
With all of these problems, the idea of investing in Italy – or anywhere around Europe – might seem crazy. But as Steve explained in yesterday's DailyWealth, it isn't.
In fact, there's an anomaly going on in the market that could cause Italy, along with the rest of Europe, to soar as much as 70% from here…
Interest rates peaked above 7% in Italy not long ago. Today, their rates are approaching U.S. levels. This is the anomaly I'm talking about. Take a look: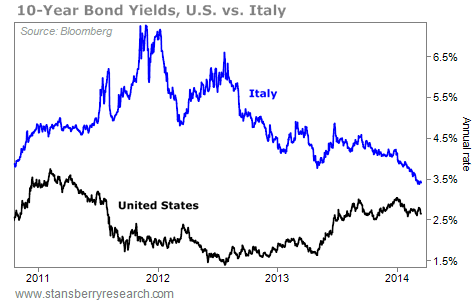 What does this mean?
It tells an amazing story about the relative value we have now in Italy and in European stocks…
In principle, the lower the interest rate, the higher the price people are willing to pay for stocks. When rates go lower, investors have to find something else to do with their money.
In short, you can't earn easy interest in Europe anymore – the easy money in European bonds is gone.
European stocks have already started moving higher because of this anomaly. But surprisingly, they're still incredibly cheap.
European stocks pay 3.4% in dividends today – more than most European government bonds. Now THAT is attractive!
And when you look at dividend yields and price-to-book value – two classic value measures – European stocks would have to rise by more than 70% to equal the valuations of U.S. stocks today.
In short, despite Europe's long-term problems, European stocks could absolutely soar from here.
The easiest way to buy a basket of Europe's strongest companies is the SPDR EURO STOXX 50 Fund (FEZ).
FEZ is up over 70% over the last two years. But with the current interest rate anomaly, it could go much higher from here. Check it out.
Good investing,
Brett Eversole
[ad#stansberry-ps]
Source: DailyWealth