Crude oil has enjoyed a rally over the past few months.
But if you are betting oil prices will remain strong in the near term, be careful. The same situation we're seeing today played out in 2013. And it ended with a sharp correction…
Last summer, crude oil enjoyed a large short-term rally. Prices moved from $94 per barrel in June to $108 per barrel in July.
But in August, Amber Lee Mason and Brian Hunt warned DailyWealth readers that crude oil was due for a sharp correction.
[ad#Google Adsense 336×280-IA]Sure enough, prices fell from $108 per barrel in August to $91 per barrel in January – more than a 15% decline in just over five months.
Brian and Amber used a simple, yet effective, indicator to predict that decline – the "Commitment of Traders (COT)" report.
The COT report measures the number of participants on each side (long or short) of a trading position.
The report shows the positions of oil producers, refiners, and traders (speculators).
After the rally last year, most traders were betting on oil prices rising.
The COT report showed that the number of speculative long-side trades in the market was at an all-time high.
The COT report is a useful tool when it hits extremes. In this case, too many traders took one side of the trade. When a huge number of market participants take one side of a trade, the trade often moves in the opposite direction – it's the nature of the market. When the price drops, traders sell. The selling forces the price even lower.
That's what we saw in August… And it's happening today.
Since January, crude oil prices have rallied from $91 per barrel up to $105 per barrel – a 15% increase. Like in August, this rally has drawn in a massive amount of speculative traders. The number of speculative long-side trades in the market is higher than it has been in several years.
And just like in August, the market is ready to punish the speculators.
As you can see in the chart below, the price of crude oil has fallen recently. As a result, the number of speculative long-side trades in the market just ticked downward.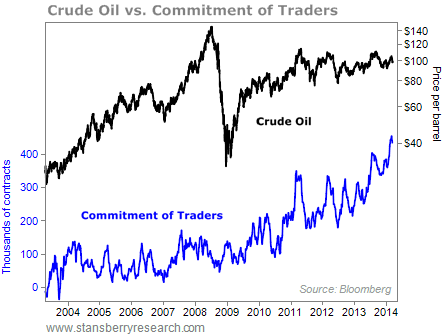 It is likely the price will continue to fall as once-bullish speculators sell their positions.
Investors betting on higher oil prices in the short term should rethink their strategy. And folks looking to buy oil producers – like giants ExxonMobil (XOM) and Chevron (CVX) – will likely have great opportunities in the next couple of months.
Good investing,
Brian Weepie
[ad#stansberry-ps]
Source: The Growth Stock Wire