Warren Buffett is well-known for his buy-what-you-use investment philosophy. That means he probably drinks a lot of Coke.
He famously owns a large chunk of The Coca-Cola Company (NYSE: KO). His stake generates millions of dollars in income every year. That must be why Claude and Betty asked me to take a look at its dividend safety.
[ad#Google Adsense 336×280-IA]The soda industry is a $198 billion-a-year business.
That kind of cash allows companies like Coca-Cola to pay a healthy (and growing) 3.2% dividend.
This month, Coke's management announced a 9% dividend increase – to $0.30 from $0.285 on a quarterly basis.
This marks the 52nd annual dividend hike.
The last time the company didn't raise the dividend was during the Kennedy administration.
That's one hell of a track record.
What's even more exciting is there's plenty of more room to continue to boost the payout to shareholders.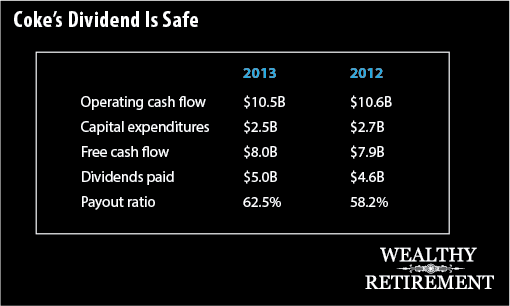 In 2013, Coke generated $10.5 billion in operating cash flow, which was $100 million less than the year before. But its capital expenditures were $200 million less than in 2012, so free cash flow rose by $100 million to about $8 billion.
The company paid out $5 billion in dividends last year, giving it a 62.5% payout ratio based on free cash flow. If you look up Coca-Cola's payout ratio you'll probably find that it says 58.1%. That's because most people use earnings as the number on which to base the payout ratio.
I use cash flow because it's a more conservative number. It is the amount of cash that the company generated. Earnings have all kinds of noncash numbers in the equation, so that doesn't give me an accurate picture of the company's ability to pay dividends.
Cash flow does because it directly measures all of the cash the company generated.
No one is going to confuse Coca-Cola with a high-growth company.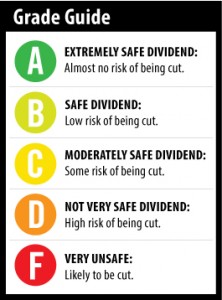 But considering it has raised the dividend every year for over half a century, is still lifting it at a considerable growth rate and generates plenty of cash each year in order to pay the dividend, Coke shareholders should have absolutely nothing to worry about when it comes to the safety of the dividend.
It is as rock-solid as it gets.
This Warren Buffett guy – I'm going to have to put him on my radar.
He may have a future as a stock picker.
Dividend Safety Rating: A
— Marc Lichtenfeld
[ad#DTA-10%]
Source: Wealthy Retirement