My True Wealth subscribers are up 27% in a month – and we have much bigger gains ahead…
Last month, the headline recommendation in my True Wealth newsletter was to buy shares of Royal Gold (RGLD), at around $52 a share.
I called it "Triple-Digit Profit Opportunity No. 1: A Unique Way To Play Gold That Can't Go Out of Business."
[ad#Google Adsense 336×280-IA]As I write to you [on Wednesday], the shares trade for more than $66 – a 27% profit so far.
But you haven't missed it yet.
Let me explain…
In that issue of True Wealth, I explained that it was the time to buy gold stocks.
They were selling at massive discounts, and investors had given up on them – so much so that junior gold stocks were down 80% peak-to-trough.
Big gains can start after such massive busts.
For example, the last time junior gold-mining stocks fell by 80% was from late 2007 to late 2008. After that 80% fall, they soared by 611% in the next two-and-a-half years.
Could they soar by hundreds of percent again? Absolutely. But could junior mining companies go out of business? Absolutely. If the price of gold is lower than their cost of mining for very long, they're done.
I wanted to share a safer way to play gold stocks in my True Wealth letter – I wanted a way that couldn't go out of business. And that's why I recommended shares of Royal Gold.
Royal Gold is a gold ROYALTY company… it simply collects royalties on gold mines.
In short, a royalty company invests money in a mine… And in exchange, it gets a cash flow for decades as gold comes out of the ground.
Royal Gold is a premier, multibillion-dollar gold-royalty business. It's selling at a dirt-cheap valuation. It could soar as much as the juniors when the juniors go up. And importantly, Royal Gold can't go out of business.
I asked John Doody of Gold Stock Analyst what he thinks about buying Royal Gold now. He was optimistic. He told me:
Royal Gold has over $1 billion in buying power right now, between $700 million in cash, and a $350 million credit line. With what has happened to gold and gold stocks, the company is in an ideal position to acquire royalty 'streams' for dirt-cheap prices.
Royal Gold trades for around $66 a share, as I write. John – the expert on gold-royalty companies – has a $100 price target on Royal Gold.
His $100 price target may turn out to be conservative. It could ultimately go higher than that. You see, John's $100 target price is based on Royal Gold's average valuation since 2008. However, in a bull market, Royal Gold will end up trading much higher than average.
Royal Gold is currently very cheap relative to its history. It can't go out of business, as it has no business (other than simply cashing royalty checks).
So all we need to do is size up whether the price we're paying today for those royalties is worth it.
The answer is yes…
The stock is as cheap as it gets.
Astoundingly, it's even cheaper than it was at the bottom of the last crash in gold stocks in late 2008 (based on price-to-book value). Take a look: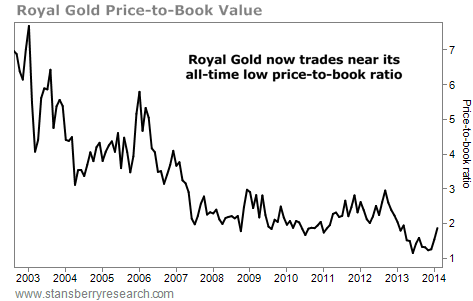 So we can buy Royal Gold cheap. It can't go out of business because it just cashes checks. It has a billion dollars of spending power right now to acquire more royalties from cash-strapped gold-mining companies that have fallen 80% in value.
The time is right.
Even though the stock is up since I recommended it last month, it still has triple-digit upside potential…
Check out shares of Royal Gold today.
Good investing,
Steve
Sponsored Link: My colleague Jeff Clark is also extremely bullish on gold and gold stocks. But he recommends a more complex way to trade it… His method can multiply gains by as much as 10… in a fraction of the time… no matter what happens to the price of gold. Jeff has kept this technique to himself for over 20 years, but he recently shared it in a brand new report. To learn more about Jeff's unique strategy, click here.
Source: DailyWealth