It's not surprising that precious metals get the most attention.
They're considered "precious" thanks to their scarcity, beauty, and history as a store of value.
That's all true. But industrial metals do the really hard work.
There's one base metal used worldwide to produce rustproof steel, in a variety of alloys, and even as a health supplement. It's not often spoken of as a great addition to your investment portfolio.
[ad#Google Adsense 336×280-IA]Here's the thing: It's poised to break out of a low multi-year price range and challenge the better-known metals in producing profits.
In fact, a stunning rally is in the works… and a great opportunity to seize an upside that others will miss, blinded by focusing on this metal's shinier counterparts…
The Double-Digit Returns Are Already Starting
Since the 2008 financial crisis, zinc prices had remained relatively quiet.
Meanwhile, copper and gold have since managed to set new highs.
Then last fall things started to change, with zinc prices seeing some impressive action. Zinc shot up from $0.84/lb. to $0.96/lb. from mid-November to early December.
That was a 14.3% gain in just three short weeks. That move led the metal out of a tight trading range between $0.81 and $0.89 that lasted for most of 2013.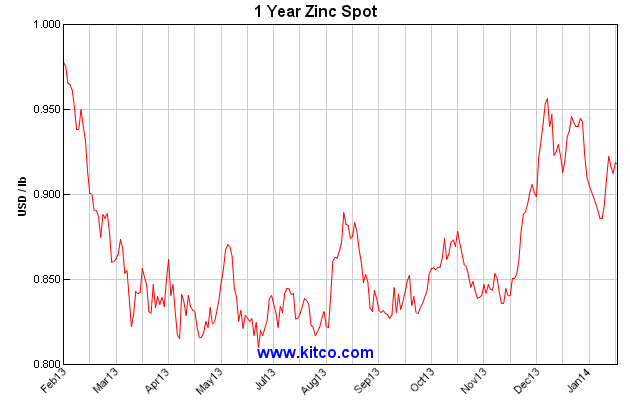 We've seen a small pullback and bounce since then, but there are increasing signs that this trend is just getting started.
Bullish Economic Signs
According to a recent report from Bloomberg, "Mitsui Mining & Smelting Co., Japan's top zinc producer, raised annual charges to overseas buyers by as much as 70% amid rising Chinese consumption, up from a 15 percent gain last year."
Asian demand appears to be garnering momentum on supply constraints.
Morgan Stanley is forecasting a wider global deficit this year.
What could be stimulating zinc prices like this? In two words: supply and demand… simultaneously.
On the supply side, a number of significant mine closures are going to limit zinc resources for the next several years. Head of zinc trading at Glencore Xstrata, Daniel Maté, told investors recently,"There is likely to be a structural deficit in the zinc market in the short to medium-term future."
Xstrata's own Canadian mine, Brunswick and Perseverance, was shut down in 2013. Later this year, Vedanta's Lisheen mine in Ireland is also expected to close. Even the world's third-largest zinc mine, Century in Australia, is likely to see its last production by mid-2105 as it runs out of ore.
Other base metals like iron ore and copper have enjoyed sustained high prices, and that's led to replacement and expansion of depleted supplies. Miners have invested in the exploration for new resources, the expansion of existing projects, and the building of new mines, all justified by profits.
By contrast, there's a dearth of new zinc projects coming on-stream to replace all that lost production. It seems the last several years of subdued zinc prices have discouraged miners from developing new projects.
Rubbing salt in the proverbial wound, some of the larger planned zinc mines are facing serious delays. Only a few months ago China's Minmetals, operator of the Dugald River project in Australia, said it was "unlikely that the previously announced schedule of a first concentrate shipment in late 2015 will be achieved."
Glencore's Maté said he believes that "more than 2 million tonnes of new supply is needed by 2016. There is a real shortage of quality projects in the pipeline which are anywhere near ready for production."
His sentiment was confirmed by Richard Davis, mining-fund manager with Blackrock Inc., saying "There could be quite a big gap opening up between supply and demand."
Meanwhile, above-ground zinc stocks are depleting quickly.
A year ago, London Metal Exchange registered warehouses held 1.2 million tons of zinc. That has dropped nearly consistently since, but then more precipitously in the last 4 months.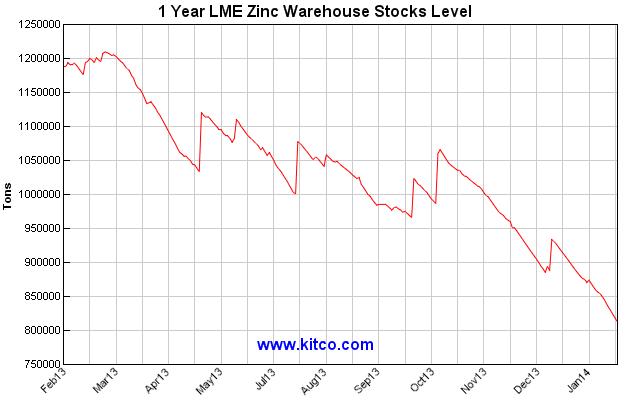 After depleting by nearly 32%, inventories now stand near 820,000 tons, as you see in the chart.
For its part, Barclays raised its zinc price outlook for 2014, based on expectations of stronger demand for industrial metals.
China, which accounts for 43% of refined zinc demand, saw net imports rise 20% in the first 10 months of 2013.
And galvanized steel, crucial to the automobile industry, is in high demand, as demonstrated by Mitsui's massive 70% price increase for zinc products.
The Profit Surge Will Have Legs
A recent survey by IHS Automotive forecasts the global auto industry will witness 85 million unit sales in 2014, up from 82 million last year. They expect sales to break the 100 million unit milestone by 2018.
Given that the average automobile uses about 37.5 pounds of zinc for everything from rust-proofing to door handles and even tires, demand for zinc is likely to drive higher prices.
We could see zinc prices break out above their five-year resistance and trade above $1.20 within the next 12 to 18 months.
Over the past few years, my Real Asset Returns subscribers enjoyed, among others, 51%, 55%, and 73% gains in industrial metals plays, and opportunities are setting up for more in the zinc space.
Constrained (and perhaps even falling) supplies, combined with growing demand for all things zinc-related, are conspiring for higher prices over the next months and likely even years.
Demand's rising. Supply's down. Zinc prices, and profits, are about to take off.
— Peter Krauth
[ad#DTA-10%]
Source: Money Morning