The mining sector has been on fire in 2014.
The Market Vectors Gold Miners Fund (GDX) closed Wednesday at $24.77 – up over 12% since the start of the year. Junior mining stocks have done even better… GDXJ, the Market Vectors Junior Gold Miners Fund, is up over 22% in the past six weeks.
[ad#Google Adsense 336×280-IA]If you took our advice in early January to buy gold stocks, you've made terrific gains.
But now it's time to take some of those gains off the table…
Traders who pay attention to technical analysis know the idea is to buy stocks at support levels and sell them at resistance levels.
GDX is now bumping into resistance.
So traders need to sell.
Here's an updated chart of GDX…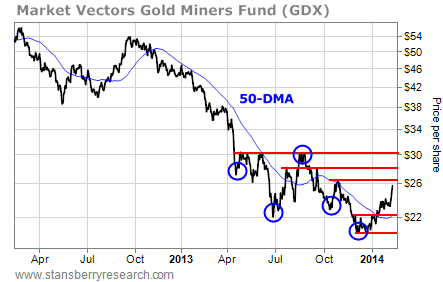 GDX broke out of a low-level consolidation pattern in early January and popped above its 50-day moving average (DMA). That action kicked off the terrific rally we've seen in gold stocks. GDX is now approaching resistance at just above $26 per share.
Over the next few months, I expect GDX to take out that resistance line and head toward one of the higher resistance levels of $27.50 or even $30 per share. But in the short term, the gold sector is due for a rest.
Notice on the chart how the 50-DMA is almost like a magnet for GDX shares. The stock rarely strays too far from the line before reversing course and coming back to it.
Right now, GDX is trading about 13% above its 50-DMA. That's an extended move. The blue circles on the chart point to other times over the past year that GDX shares were as far away from the 50-DMA as they are now. Each time, GDX reversed back toward the line.
With GDX approaching resistance and shares extended so far above its 50-DMA, this is a logical place for short-term traders to take profits on gold stocks – especially if you picked them up in early January.
The intermediate and long-term picture remains bullish for gold miners. But in the short term, the sector is due for a pullback.
Best regards and good trading,
Jeff Clark
[ad#stansberry-ps]
Source: The Growth Stock Wire