It's official… Gold has bottomed. And gold stocks have, too.
Take a look… Gold and gold stocks have taken off this year, while the stock market has done nothing…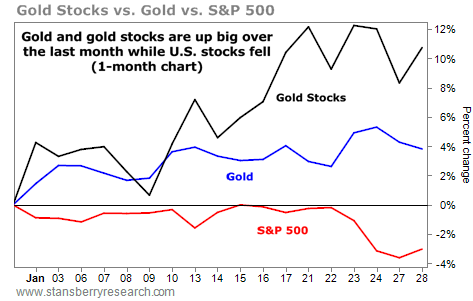 As I'll explain today, I think this move is legitimate…
Gold bottomed in December.
The bottom made total sense, for two major reasons:
Negativity toward gold literally couldn't get any worse.
Gold stocks reached a record discount to the price of gold.
Specifically, "precious-metals sentiment dropped close to zero" in December, my friend Jason Goepfert of SentimenTrader wrote. (His scale is 0 to 100.) As far as investors were concerned, gold was as HATED as it gets.
[ad#Google Adsense 336×280-IA]When something can't get any more hated, it eventually gets less hated… and that's when you want to own it!
That is where you can make real money.
Also, gold stocks were as CHEAP as they get…
"Gold stocks are 48% undervalued" relative to the price of gold as of December 31, John Doody of the Gold Stock Analyst newsletter wrote.
(That's the biggest discount in history for gold stocks.)
I spoke with John on the phone a few weeks ago about this. He told me back then that "everyone who wanted to sell has now sold. Now is the time."
He was right. In my True Wealth newsletter, we stepped up. We bought gold stocks a few weeks ago.
And as you can see in the chart above, buying gold stocks a few weeks ago was the right call… We now have an UPTREND in gold stocks. (The "safe" play we made in my newsletter has actually outperformed gold stocks.) Gold and gold stocks are now beating the stock market.
Gold has bottomed. Gold stocks have bottomed.
And now we have our True Wealth "trifecta"… Gold stocks are CHEAP, HATED, and IN AN UPTREND.
We have everything we want to see in an investment right now. This is when you want to buy.
As John Doody said, "now is the time." I think he's right… The setup doesn't get any better than this.
Don't let this moment pass you by… Buy gold and gold stocks now…
For the safest trade, use a stop loss at recent lows… Otherwise, let 'er rip!
Good investing,
Steve
[ad#stansberry-ps]
Source: DailyWealth