We would have dismissed it as science fiction just a generation ago…
The pace of medical progress over the past 20 years is astounding. In the course of our lifetimes, we've gone from diagnosing patients with little more than a stethoscope and a flashlight to using an array of diagnostic tools.
We can peer into the body and examine every tissue with MRIs. We can draw blood from the body, pick out certain cells, attach things to them, and put those cells back in to kill cancer.
[ad#Google Adsense 336×280-IA]And as technology evolves and improves… the role diagnostics, data, and medical devices play in our health care will only grow over the coming decades.
We're only at the beginning of this trend…
Just this month, genetics company Illumina announced a new machine that will sequence an entire person's genome for $1,000 a pop.
The same sequencing cost $100 million just a decade ago.
Even aside from medical advances, demand for testing and other supplies will boom in the coming years.
People 65 years old and older currently make up nearly 13% of the population.
But that figure will swell to 19% by 2030… representing an additional 32 million elderly people. And the key: Just about everyone spends more money on health care as they age. For example, older people use three to four times the amount of prescription drugs as folks under 50.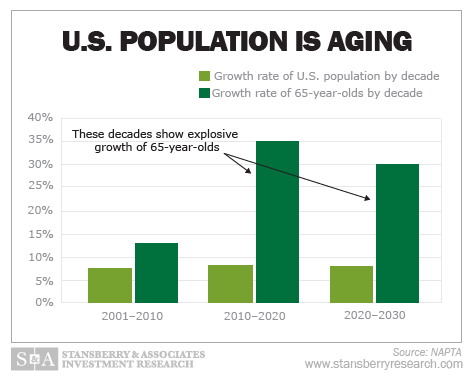 And the government's new "Obamacare" health regime will drive 20 million previously uninsured patients – more than 6% of the U.S. population – into the health care system over the next decade.
This means more people in the ICU and the hospital. That means more needles, tubes, and tests… more demand for just about everything related to health care.
I'm not a fan of Obamacare… but I know the resulting health care boom means we have to be invested in health care for the long term.
For folks who like to buy individual stocks, this can mean owning pharmacy companies like CVS… or big drug companies like Eli Lilly. We own both of these companies in my Retirement Millionaire service… and we're making great money (both are up more than 75% for us).
If you prefer diversified investments like mutual funds or exchange-traded funds (ETFs), consider something like the Health Care Select Fund (XLV) from State Street Global Advisors.
It's a diversified fund that holds 55 of the best, most well-capitalized and successful health care companies in the country – companies like Johnson & Johnson, Pfizer, and Merck. Its top 10 holdings make up 56% of its portfolio.
These large, stable companies don't often come out with shocking announcements that rock their share prices. But even if they do, owning so many stocks makes the effects of a single announcement virtually nil.
By owning a fund like XLV, you don't have to pick the winners and losers from the health care field. With one click, you set yourself up to benefit from the 20 million new health care customers, no matter where they end up.
However you decide to own health care investments, I urge you to buy them soon. We have a multi-decade tailwind at our backs. And we have a huge new source of demand coming from Obamacare.
That makes the health care sector a sure bet in the coming years.
Here's to our health, wealth, and a great retirement,
Dr. David Eifrig
[ad#stansberry-ps]
Source: DailyWealth