If you've been reading Growth Stock Wire for the past few weeks, you know that we think silver is likely to rally this year.
Owning a silver exchange-traded fund can be a terrific way to profit. But what if you want a little more "juice" from this rally?
[ad#Google Adsense 336×280-IA]I'll cover several of the best stocks to own in today's essay.
But first, let's look at the "big picture" for silver…
Last June, silver hit its lowest level since 2010 when it bottomed at $18.49 per ounce.
The price quickly recovered – and has not returned to the sub-$19 level since.
Today, silver is trading near $20 per ounce and showing signs it wants to continue upward.
You can see this in the chart below…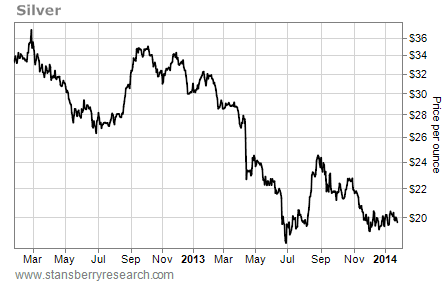 If silver has bottomed, it makes sense to consider large, safe silver producers who will benefit from an uptick in the price of silver. Fortunately, the list of quality miners that focus mostly on silver is fairly short.
These companies stand to benefit the most from surging prices. As the price rises, it will increase their revenues (and profits) from every ounce of silver they mine. These producers will become more valuable with every dollar the price goes up.
Here are some of the world's largest primary silver producers:
Some of these producers pay a solid dividend. So investors in these companies can earn income while we wait for silver to move higher.
The first company on our list, Silver Wheaton, isn't actually a miner. It holds "streams" of silver. These streams are rights to silver production the company bought years ago from mines and pays a minimal price for today. Silver Wheaton has rights to almost 900 million ounces of proven and probable silver reserves, so it will profit from silver production for a long time.
While it is sensitive to low silver prices, its profits will soar quickly as the price increases. And its dividend is equal to 20% of its cash flow. When the silver price goes up, so will its cash flow… and its dividend.
Silver has already started to move higher. Consider buying one of these silver producers before they get too expensive.
Good investing,
Matt Badiali
[ad#stansberry-ps]
Source: The Growth Stock Wire