One of the last "bargain bin" sectors is finally moving higher… and triple-digit gains could be ahead.
In May, I told you about the "bargain bin" trade in uranium stocks.
Since uranium stocks were badly oversold and since I knew uranium demand will keep rising, I said the situation presented the opportunity to make enormous gains.
And now, uranium stocks look set to take off…
[ad#Google Adsense 336×280-IA]As regular
Growth Stock Wire
readers know, the price of uranium – the fuel that powers nuclear reactors – collapsed in 2011.
It had seen an incredible boom…
And then Japan's Fukushima Daiichi nuclear power plant failed after being struck by a massive earthquake and tsunami.
Japan, the world's third-largest producer of nuclear power, shut down its fleet of power plants.
The shutdown clobbered the uranium market.
First, there was a lack of demand for new uranium fuel. Also, the plants shut down by the Japanese government sold their stockpiled uranium into the market… which depressed prices further. Uranium stocks suffered a 50%-plus drop… and sentiment toward the sector has been terrible ever since.
Sentiment toward uranium might be bad. But the price outlook is solid. Right now, spot uranium is selling for below the production cost of many miners. On the demand side, the growing economies of China and India are desperate for sources of low-cost electric power. Uranium is a key component of their future energy plans. These countries will provide a huge source of demand for decades. And the market might finally be realizing it…
Below is a three-year chart of uranium miner Cameco (CCJ). It's the largest publicly traded uranium producer. You can think of it as the "ExxonMobil of uranium." As you can see, Cameco was hammered in 2011. It then formed a bottom after everyone who wanted to sell did so. And just in the past month, shares have broken out to a new 52-week high.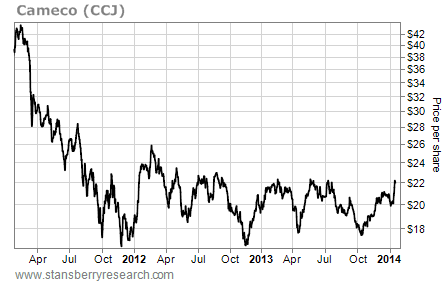 It's not just Cameco that is showing price strength. Another large uranium explorer, Denison Mines (DNN), is up 41% from its October 2013 lows. In just the past few weeks, Denison has surged to its highest level in 10 months.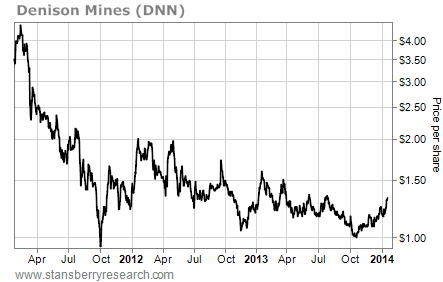 I see this price strength as the beginning of a new bull market in uranium stocks. And although shares have enjoyed a rally, they have much, much further to rise in the coming years. The sector could gain 100% or 200% over the next 12-24 months. The world needs cheap electricity… and uranium is a major source of it.
Good investing,
Matt Badiali
[ad#stansberry-ps]
Source: The Growth Stock Wire