I had never bought real estate as an investment BEFORE the housing bust…
In short, I want INCREDIBLE value for my investment dollars… and I had never seen that before in U.S. real estate… until the Great Bust.
Then in 2008, near the bottom of the housing crisis, I wrote "The Housing Bust Is Over."
I personally started buying U.S. real estate for investment in 2009… And I'm still at it…
[Thursday], I had lunch with a guy who deals in thousand-acre properties, to get an update on the situation of the "very big" buyers. (They're still buying.)
Also, [Thursday] afternoon, I walked with a builder through a rental house that I bought cheap last year to talk about renovating it.
I've written for years that I expect house prices will soar higher than anyone imagined, and it will happen faster than anyone imagined. This moment in history has truly been extraordinary. In 2011, I wrote that it's "The Best Time in History to Buy a House."
[ad#Google Adsense 336×280-IA]So far, I've been right… In the last 12 months, house prices are up 14% nationwide… the biggest price gain since before the housing bust.
But now that house prices have soared, is it time to sell?
Absolutely not! I am still personally buying…
I'm hoping for good news from a realtor this week about a large property that I really want to buy.
If that doesn't pan out, I will likely offer to buy out some of my partners in a recent real estate deal… I may offer them double the money they invested with me, on a property that we bought together in cash less than two years ago. And I think that's still a good deal for me… I'm THAT optimistic!
Why am I still so confident, even after prices have gone up so much?
Because U.S. housing is still REALLY affordable… It's darn cheap!
In my office, we have a rough measure of the "fair value" of the median U.S. home. It's a simple measure… We size up affordability based on median income and current mortgage rates, and we compare that with home prices.
Take a look: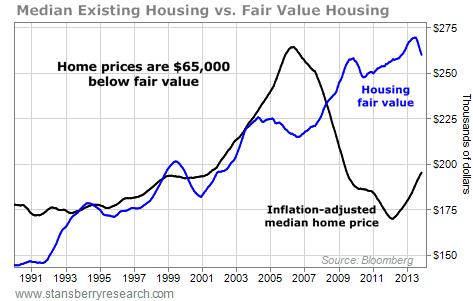 In short, right now, the median house in America is about $65,000 below our measure of fair value (based on mortgage rates and incomes).
You can see in the chart that in 2006, house prices were way above our fair-value measure. And in 2012, house prices were way below fair value.
You can easily see that the gap is narrowing today… that housing is less of a value today than it was a year ago.
You can see that prices are up… And meanwhile, our fair-value number has fallen (because of higher mortgage rates). So the time is not as perfect today as it was a year or two ago.
Still, the gap is wide… meaning that house prices have much farther to go before we get to fair value.
I think house prices could go BEYOND fair value in this housing bull market… as Mom and Pop America realize they need to get their cash out from their banks, earning zero-percent interest.
I expect Mom and Pop will eventually put their "mattress money" to work in the real estate market and in the stock market, joining the large investors who are doing the same thing now. It's starting to happen now… And I expect we'll see much more of it over the next 12 to 18 months.
If you haven't bought into real estate yet, believe me, you haven't missed it…
Mortgage rates are still extremely low. House prices are still extremely cheap. (They're still way under fair value.) And I believe we have a wave of buyers that will still be buying over the next 12 to 18 months.
I suggest you get out there and beat 'em to it.
I've been doing it for years – successfully now. And I am not backing down yet.
Don't miss out!
Good investing,
Steve
[ad#stansberry-ps]
Source: DailyWealth