As the legendary 18th-century banker Baron Rothschild wisely counseled, "Buy when there's blood in the streets."
Many of the world's best investors do just that. They buy when everyone else is selling. As a result, they invest in good assets at a deep discount to their true value.
You've probably heard the negative news headlines about Argentina. That's because inflation is officially running at 10% per year (unofficially numbers are closer to 20%).
[ad#Google Adsense 336×280-IA]Meanwhile, the national currency is sinking against the dollar.
Stock prices are plunging, and the government is threatening to default on its debt.
I've been telling Daily Profit readers about the dire situation in Argentina.
And in July, I wrote an article titled Why I'm Buying Argentina Farmland.
My article painted a dire picture.
With uncertainty and risk-aversion running rampant, Argentine stock prices were severely depressed.
That's why it was a perfect time to consider investing.
One of my favorites was an Argentinian farming company. Here's what I wrote in Daily Profit a few months ago:
This company happens to be Argentina's largest farmland owner, with over 400,000 hectares spread across 34 farms. Sixty-six percent of these hectares are in Argentina; the rest are spread among Brazil, Paraguay and Bolivia. These farms produce a variety of agriculture products – soybeans, sugarcane, corn, wheat, sunflowers, dairy, and beef cattle.

Thanks to [Argentina President] Ms. Kirchner, and her depressing influencing on Argentina's financial markets, this farmland company is also dirt-cheap. Its low share price has driven the yield up to 6% and the discount-to-book value to 65%.
The company I recommended was Cresud SA (NASDAQ: CRESY). When my article was published on July 26, the stock traded at $7.80.
Cresud is a well-run company with motivated management: the CEO owns 37% of the outstanding shares. It's been around for 75 years; it has plenty of experience traversing Argentina's political minefields.
This summer, the shares were temporarily depressed. But its long-term potential was bright. That's because global demographics point to a very favorable outlook for farmland.
The United Nations estimates world population will reach 9.1 billion by 2050, an increase of 34%. Most of the growth will occur in the developing world, and within the major metropolitan regions. This means a greater percentage of the world will be dependent on purchased food.
On the supply side, roughly 37% of world's land is used for agricultural. But just 11% is used to grow crops. The potential to expand agricultural land use is limited due to infrastructure constraints, water availability, crop suitability and competition from other land uses.
Greater demand and limited new supply create an environment for rising farmland values.
But because of the off-putting events occurring in Argentina in July, Cresud shares had been hammered down and were trading at a ridiculous 40% discount to book value. I saw a screaming bargain, and I was literally aggressively recommending my High Yield Wealth subscribers to buy Cresud shares.
Investors who followed my advice are sitting on sizable gains, with Cresud shares up 53% in the past four months. Most of the gain has materialized over the past three weeks.
Cresud Shares Soar 53%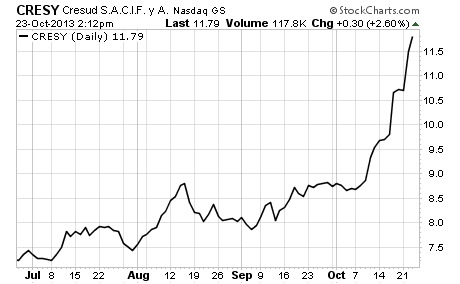 Cresud offers an invaluable investing lesson.
If you are confident and experienced, buying Cresud shares during the July turmoil was an easy decision. Experience would have alerted you to the pessimism that was depressing stock prices.
Four months later, we see that Argentina's stock market is up 35%; the peso is stabilizing; the government has avoided default; the political environment is improving.
To be a successful contrarian investor, you must rationally visualize a future different from today. Most investors lack this capability. They believe tomorrow must be like today. And this perception ensures they will continually miss out on enticing value opportunities like Cresud SA.
Even after rising dramatically, Cresud offers investors an attractive 4.1% dividend yield. This stock is a solid long-term investment, and one that I continue to recommend.
— Steve Mauzy
[ad#wyatt-income]
Source: Wyatt Investment Research