We have an incredible situation in the currency markets right now…
It's a crazy circumstance that doesn't come around often. Since 2009, this opportunity has popped up just once a year. And on average, these trades have led to 20% gains in less than three months.
Our opportunity is even better today…
Regular readers know I love HATED investments.
[ad#Google Adsense 336×280-IA]When the majority of investors have given up, we have the best opportunity to make big gains.
That is where we are in Australia right now.
No one wants to own the Australian dollar.
Investors are bailing out…
We can see this clearly through the Commitment of Traders (COT) report on the Australian dollar.
The COT tracks the real bets of futures traders. Based on history, we want to own the Aussie dollar when futures traders all think the currency is going to fall. And that's exactly what we have today. Take a look…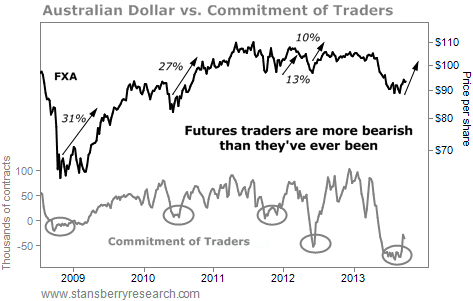 Today, the COT report is coming off the most bearish reading ever in nearly 20 years of data. The Aussie dollar is as hated as it gets.
As the chart shows, the COT reached local bearish extremes each of the last five years. Buying at those extremes would have led to an average return of 20% in just three months.
Today, we have the exact same opportunity… except traders are currently at their most bearish reading ever. As contrarian investors, this is the best opportunity in the Aussie dollar since 2009.
The Aussie dollar has the three things I look for in an investment. It is 1) cheap, 2) hated, and 3) just starting an uptrend. Shares of the CurrencyShares Australian Dollar Trust (FXA) are up nearly 5% over the last month. But this is just the beginning of a greater move.
Based on history, 20% gains in three months are likely. And today's opportunity is even better than what we've seen in the past. FXA gives us a great chance to pocket double-digit gains safely, right now.
Good investing,
Steve
[ad#stansberry-ps]
Source: DailyWealth