Last week, reader T.F. asked me to take a look at the dividend safety rating of Nordic American Tankers Limited (NYSE: NAT). He wonders "if they'll hold the dividend given their problems."
Let's find out.
Nordic American Tankers is a Bermuda-based company that acquires and charters oil tankers. It pays an 8% dividend yield, so it's easy to see why it would be attractive to income investors.
[ad#Google Adsense 336×280-IA]But I think I'd rather take a cruise on one of its ships than rely on its dividend.
The company hasn't made money since 2009 and lost $32 million in each of the first two quarters of 2013.
More concerning for shareholders who are depending on the dividend is the fact that its operations haven't been cash flow positive since 2010.
Even worse, when it did have cash flow from operations, it hasn't been enough to cover the dividend since 2004.
Free cash flow, which subtracts capital expenditures from cash flow from operations, hasn't covered the dividend in at least a decade. The way the company has been able to fund the dividend and its operations is by selling stock.
Could it continue to do that over the next several years? Sure? Do you want to depend on that for a stable dividend payment? Probably not.
The company's track record for dividend payments has been inconsistent. And as you can see below, the dividend has come way down over the years. In 2008, Nordic American paid as much as $1.61 per quarter. Today, the dividend is 90% lower.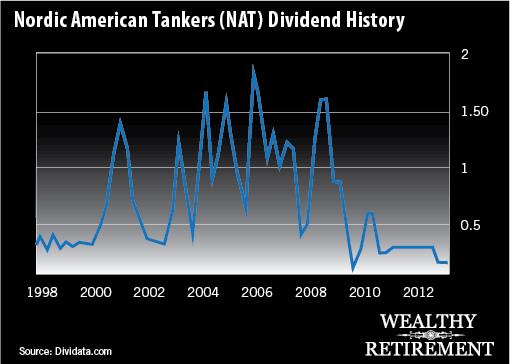 In fact, after paying a $0.30 quarterly dividend for seven quarters in a row, in January, the company slashed the dividend nearly in half to its current level of $0.16.
The outlook for tankers is not strong going forward. An oversupply of tankers and increasing supply of oil will likely lead to lower shipping rates. The company is projected to lose $1.35 per share this year and $0.73 next year, although revenue is estimated to jump 47% in 2014.
Free cash flow will be negative and cash flow from operations is estimated to be a paltry $17 million this year and $35 million in 2014 – significantly less than the $63 million in paid in dividends in 2012.
It looks like Nordic American Tanker's dividend is about as safe as being in a glass house on the San Andreas Fault. In other words, it's not safe at all.
Dividend Safety Rating: F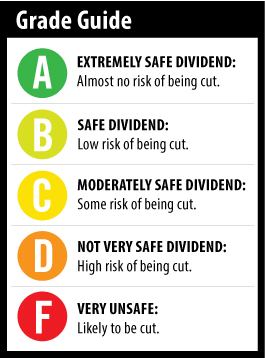 — Marc Lichtenfeld
[ad#wyatt-income]
Source: Wealthy Retirement