Blackstone Group L.P. (NYSE: BX) is one of the world's largest and most successful investors. It runs a diverse group of funds that invest in a wide variety of assets including stocks, real estate, private equity, etc. Blackstone has nearly a quarter of a trillion dollars under management.
The company makes a lot of money. In the first six months of the year, its profit was $938 million. That's up significantly from $512 million the year before.
[ad#Google Adsense 336×280-IA]And Blackstone pays a decent dividend.
In the first six months of the year, it has paid $0.53 per share.
Annualized, that comes out to a healthy 4.9% yield.
However, the dividend fluctuates strongly from quarter to quarter and year to year.
In the first quarter, the distribution was $0.30.
The second quarter distribution fell to $0.23.
So for an investor who needs a reliable income stream, Blackstone doesn't deliver.
The company's dividend history has been all over the place. It lowered the dividend in 2009 and 2010. Raised it slightly in 2011, cut it in 2012 and now will grow the dividend in 2013.
In the first six months of the year, the company's distributable earnings (a measure of cash flow) was $729 million. During that time, it paid out $905 million in distributions. Last year at this time it also had paid out more in distributions than it earned.
The company has a policy in place that the dividend will be at least $0.12 per share, even if it has to "borrow" money from future quarters to pay for it. Fortunately for shareholders, the company hasn't needed to do that yet, but it is possible it will in the future if business takes a bad turn.
When I discuss the safety of a dividend in these Safety Net columns, my main goal is to try to figure out if the dividend will be cut in the not-too-distant future. Although I always prefer dividend growth, a stable dividend will still merit a high rating.
Unfortunately for Blackstone shareholders, the dividend is anything but stable.
That doesn't mean it will get cut to zero. Blackstone is a very well-run company that makes lots of money. But it has no track record whatsoever to speak of when it comes to a stable dividend. Some years it goes up. Others it comes down by a significant amount.
Blackstone may be a suitable investment for those who are looking for growth (I haven't analyzed the stock for its growth prospects) and who will be happy with whatever income they happen to get.
Other investors who see that 4.9% yield and are willing to take their chances that the dividend doesn't get reduced too much in the future could wind up happy too. I'm not saying they will, just that it's a possibility.
But since this column is all about safety, I have to warn investors who need a reliable quarterly dividend check that Blackstone is NOT for you. Its dividend is just way too unpredictable. You never know what you're going to get in any given year.
Dividend Safety Rating: F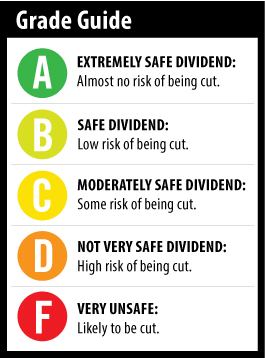 — Marc Lichtenfeld
[ad#leeb-article]
Source: Wealthy Retirement