Last week, Amber Lee Mason and Brian Hunt showed you that silver was poised to rally because of an extreme condition in the market.
A giant "blowout" in silver over the last 10 months had put investor sentiment toward silver in extreme territory.
And after a short series of "higher lows" and "higher highs," silver looked to be in the start of an uptrend. They said…
If silver keeps moving higher, the speculative funds that are now massively short the metal will rush in to buy in order to cover their short positions. That will drive prices higher.
They nailed it. Not only did silver pop 14% higher, it also exploded above its 50-day moving average (DMA).
Take a look…
[ad#Google Adsense 336×280-IA]The 50-DMA has been resistance for the price of silver since the chart dropped below the line last December.
So the breakout above the line is a big deal.
It signals the trend has changed from bearish to bullish…
And it points to higher prices over the coming weeks and months.
If you jumped into the trade with Amber and Brian last week… congratulations, you're sitting on solid profits.
If you missed it, here's how you can get in on it today…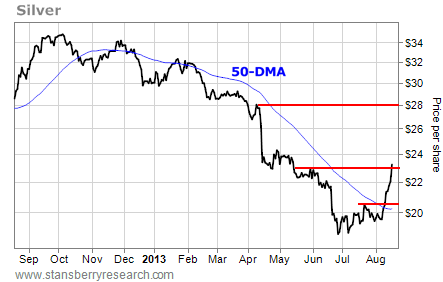 Right now, silver is bumping into resistance just above $23 per ounce. If it can break above that level, the next target is $28. I expect we'll get there over the next few months. For the short term, though, silver is extended. It's overbought and is hitting resistance. So a short-term pullback is likely.
Traders should use that pullback as a chance to buy.
Following a big breakout above the 50-DMA, it's common for a chart to come back down and retest the line from above. It's also common to retrace about half the gains of a big breakout move. All of this lines up well with the support line just below $21.
If you own silver, hang onto it. You might have to suffer through some weakness in the short term, but the potential gains over the next few months are huge.
If you're not in the silver trade yet, give the metal a chance to pull back and work off its current overbought condition. Then start buying on any move near $21 per ounce.
Best regards and good trading,
Jeff Clark
[ad#stansberry-ps]
Source: The Growth Stock Wire