Where can you get PAID today?
At first glance, the answer is NOWHERE…
The bank pays you nothing. Bonds pay you next to nothing. And stocks barely pay any dividends at all.
Ah, but there is one "stealth" source of getting PAID… through what I call "stealth" dividends. These are my favorite kind of dividends…
[ad#Google Adsense 336×280-IA]For example, biotechnology giant
Amgen (AMGN)
paid out an astounding $15 billion in stealth dividends from 2010 to 2012.
Since Amgen's total stock market value is $80 billion dollars, that $15 billion stealth dividend payment means that Amgen paid out nearly 20% in that time.
Where are you going to find that kind of income payment these days?
It's not just Amgen…
Many of the world's best businesses are returning billions of dollars to their shareholders every year through "stealth dividends."
Oil giant ConocoPhillips (COP), for example, paid $20 billion in stealth dividends in that same period. That's 25% of its current market cap.
When you crunch the numbers, it turns out that you really want to own companies that are paying big stealth dividends. Why? Because a simple strategy of buying "stealth dividend" stocks has historically crushed the stock market.
Right now, we have a great opportunity to buy into the strategy today.
So what is a stealth dividend? And what is today's opportunity? Let me explain…
Most investors understand the basic principle behind buying dividend-paying companies… People understand owning companies that pay you – the shareholder – is a good thing. And many investors know that buying a basket of the best dividend-payers has proven to safely beat the stock market over the long term.
However, most investors have never heard of "stealth dividends." And most investors don't know just how extraordinary the returns have been from buying stealth-dividend stocks.
"Stealth dividends" – as I call them – are actually share buybacks… I call them stealth dividends because when a company buys back its own shares, it works almost exactly like a dividend payment… but better.
If companies pay out their cash to shareholders as dividends, you're taxed on those dividends immediately… even if you reinvest your gains.
That's why a company using that cash to buy back its own shares, to me, is a "stealth dividend." You see, when a company buys back its own shares, those shares are retired. The share count goes down. Therefore, each remaining share becomes more valuable. The pie remains the same size, but each piece becomes larger and larger…
In short, you own more of the pie… you own more of the company. You got a little stealth dividend. Instead of getting a cash payment, you now simply own a higher percentage of the company. But since you didn't get a check, and since you don't own more shares, the IRS doesn't tax you. That's why it's better.
In 2013, this strategy has worked perfectly. A simple basket of the best "stealth dividend" companies is handily beating the stock market. Take a look…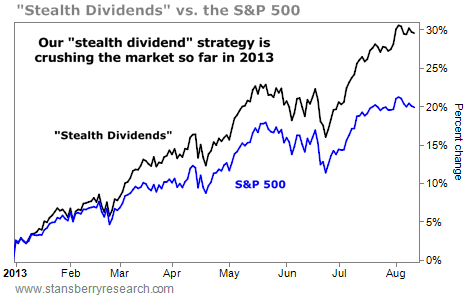 The stock market is on fire this year… returning 20% in less than eight months. But our "stealth dividend" strategy is up 30% over the same period… a 50% outperformance of the stock market!
Importantly, we have an easy way to buy the best "stealth dividend" companies. It's called the PowerShares Buyback Achievers Fund (PKW). PKW invests in stocks that have bought back 5%-plus of their shares over the last 12 months.
PKW is up 30% so far this year… but amazingly, the fund is still dirt-cheap. Take a look at the top five holdings…
As I write, these trade for an average forward P/E ratio of just 12.1. That's a great value.
It's not just these five… The fund as a whole is cheaper than the S&P 500, even after the great run this year.
With PKW, you have a group of cheap stocks that are paying out big stealth dividends. Based on history, we expect that trend to continue going forward.
You've probably never thought about "stealth dividends" like this before… but it's a strategy you should think about right now, particularly in our zero-percent world.
Shares of PKW offer a simple way to make the trade. Check 'em out…
Good investing,
Steve
[ad#stansberry-ps]
Source: DailyWealth