Subscribers to my True Wealth Systems letter are up 17% in one month… and I believe this could be just the beginning…
True Wealth Systems is a trading service that distills my decades of investing experience into a few dozen computer trading models. And the computers alerted me to this opportunity.
Importantly, our top two reasons for buying last month are still in place.
Significant upside potential remains. Let me explain…
Last month, the True Wealth Systems computers found a crazy-good opportunity in bank stocks…
Bank stocks were a fantastic relative value.
Bank stocks were outperforming.
As I said, both of these are still true today.
[ad#Google Adsense 336×280-IA]The simplest way to gauge a bank stock's value is to look at its price-to-book value.
Book value in banks is a rough measure of liquidation value.
Traditionally, banks are cheaper than the overall market.
But today, banks are extremely cheap relative to the overall stock market…
By looking at the discount, we see that – with the exception of 2009 – banks are cheaper now than they've been as far back as we have data.
In short, bank stocks are an incredible value today. They are trading near liquidation value… and at a huge discount relative to the stock market.
So the value is there… But what about the "outperformance"?
I can sum it up in one simple chart… It shows the performance of the overall stock market versus a fund of regional bank stocks – the KBW Regional Banking Fund (KBE).
Take a look at what's happened in the last three months: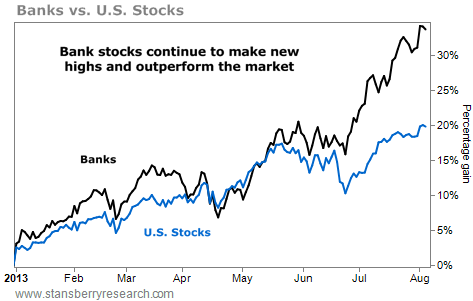 Bank stocks held up very well when the market turned down, and they have broken out on the upside as the market got better. While the overall market has made new highs, bank stocks continue to soar much higher, much faster.
In sum, we have incredible relative value right now… Bank stocks are 60% undervalued relative to the stock market. And they're outperforming.
That's the story I explained in True Wealth Systems last month. We bought banks using a double-long exchange-traded fund… And we're up 17% already!
As I wrote in True Wealth Systems: "The four times in history that bank stocks became this cheap, it led to triple-digit returns. And that wasn't even based on a double-long index. With a double-long fund, your returns should be much higher…"
Our True Wealth Systems computers got it exactly right… But importantly, the value and the outperformance is still here.
There should be more gains to come…
Good investing,
Steve
Sponsored Link: My latest issue of True Wealth Systems just came out. Our computers spotted an opportunity to make 60%-plus gains in the next 18 months in an asset that's going from "bad" to "less bad." This is when you make the most money. Learn how to get immediate access to this – and my research on bank stocks – right here.
Source: DailyWealth