As the stock market rallies to new all-time highs and the cheerleaders on the financial networks urge investors to "get in while the getting is good," three charts suggest caution…
First is the Volatility Index (the "VIX")…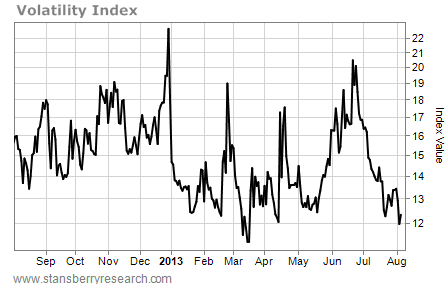 The VIX is a measure of investor fear, and it closed Friday near its lowest level of 2013.
[ad#Google Adsense 336×280-IA]Investors are complacent.
They're not fearful of an impending market decline.
From a contrarian point of view, a low VIX is a bad sign for the market.
Periods of low volatility are always followed by periods of high volatility and vice versa.
So this chart is one reason to be cautious for the short term.
The Nasdaq Summation Index (the "NASI") gives us a reason to be cautious for the intermediate term…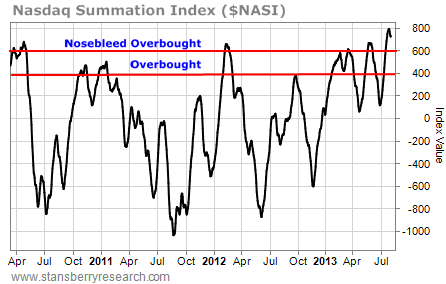 The NASI is a momentum indicator that helps point out overbought and oversold conditions on the Nasdaq stock market. As you can see from the chart, the NASI rallied to its highest level of the year last week. It's well into "nosebleed overbought" territory. Stocks are more overbought now than they were in June, just before we got hit with a fast 7% selloff.
Also, notice that the NASI hasn't been below the "0" line all year. This is unusual. The NASI usually spends about half its time above zero and half its time below.
That it hasn't been below zero all year is a testament to how strong the buying pressure has been. It's also a strong warning that the next decline phase may be more severe and longer-lasting than what we saw a couple months ago.
Finally, there's this long-term, monthly chart of the S&P 500…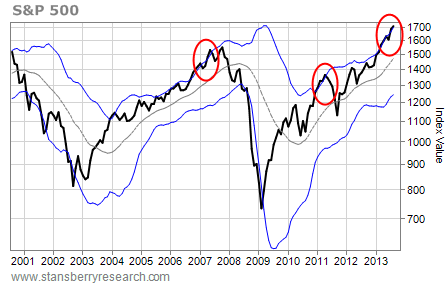 The S&P 500 ended July above its monthly upper Bollinger Band.
Bollinger Bands measure the most probable range of prices for a stock or index. Any move outside of the bands indicates an extreme condition – one that is likely to reverse.
It's rare for the S&P to close above the upper Bollinger Band on the monthly chart. The two previous times it happened – in 2011 and 2007 – signaled important intermediate-term tops for the stock market. It's too early to tell if that will be the case this time as well.
But it's a good reason to be careful with stocks trading at new all-time highs.
Best regards and good trading,
Jeff Clark
[ad#stansberry-ps]
Source: The Growth Stock Wire