Get out.
Don't wait for it to get better.
Don't try to pick the bottom. Don't look for cheap stocks. Just get to the sidelines… because it could get worse.
Over the last few weeks, gold stocks are down 25%, as measured by the major gold-stock index (the "HUI"). As you can see in the chart below, it's a full-blown crash…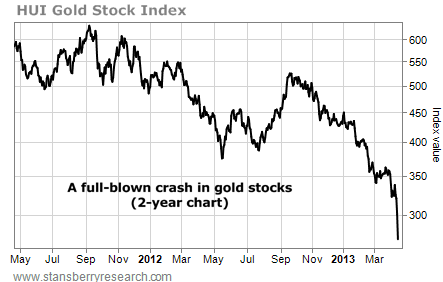 Investors are bailing out of gold stocks in droves. The stocks have gone from cheap to crazy-cheap. They've gone from oversold to crazy-oversold. And if you're a contrarian type, that has piqued your interest.
[ad#Google Adsense 336×280-IA]But the crash probably isn't over yet.
We saw this kind of thing before, back in 2008.
Gold stocks can fall much farther.
In March 2008, the HUI topped at 515.
In October 2008, it bottomed at 151.
That's a 71% decline in just seven months.
If we touch a similar low, the index will lose another 44% from here.
It doesn't make any sense to risk more cash now, when a 44% loss is a possibility. Get clear, preserve your cash, and wait for prices to stabilize and even rise a bit higher before you buy. This will give us "price confirmation" that the selling pressure has been exhausted.
— Matt Badiali
[ad#stansberry-ps]
Source: The Growth Stock Wire