There are extreme conditions worth watching this week…
Silver is poised to make a big move – one way or another.
The Bollinger Bands (BB) on the silver chart are narrower than they've been in a decade…
Take a look…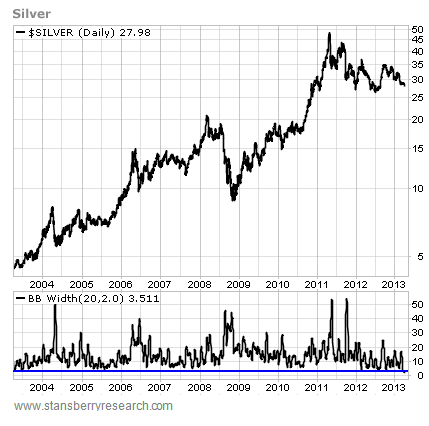 Bollinger Bands measure volatility. As you can see from the bottom chart – which measures BB width over the past 10 years – periods of low volatility are always followed by periods of high volatility, and vice versa.
[ad#Google Adsense 336×280-IA]There's no way to know for sure which direction the move will go.
But with silver now showing its lowest volatility in a decade, traders should get ready for a big move soon.
The U.S. dollar rally is ending.
The greenback is up 5% since early February.
That's a huge move for a currency in such a short time.
But the buck is now overextended to the upside and is showing negative divergence on the MACD momentum indicator…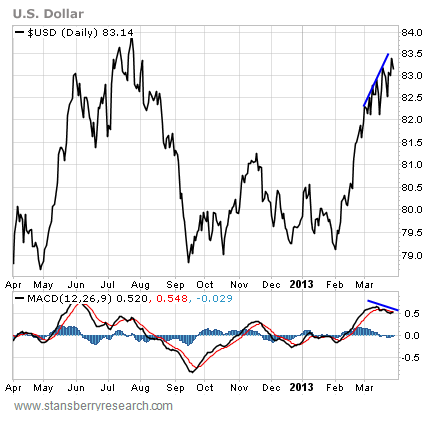 The MACD indicator helps to measure the strength of a trend. If the chart is moving higher and the MACD is moving higher as well, the rally is strong and likely to continue. In this case, though, the dollar has been rallying… but the MACD hasn't been keeping up. This negative divergence is an early warning sign the rally may be coming to an end.
Finally, the warning siren from copper keeps getting louder. Copper broke below an important support line in mid-February. It then broke through secondary support in mid-March. Copper rallied back and tested the former support line (now resistance) last week. It failed that test, and the metal started dropping again last Friday. Take a look…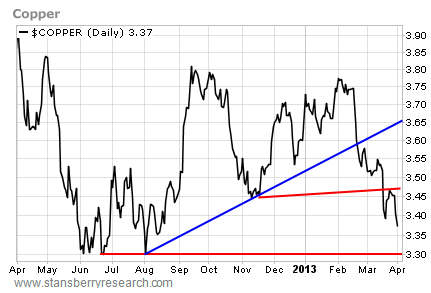 Copper is a leading indicator for stock prices. The S&P 500 has managed to rally to new all-time highs, despite the drop in copper. But this sort of divergence usually doesn't last long. At some point, copper either needs to start rallying and catch up with the move in the stock market… or the stock market needs to fall in line with the move in copper.
Best regards and good trading,
Jeff Clark
[ad#stansberry-ps]
Source: The Growth Stock Wire