The gold sector is ripe for a rally…
Gold miners have had a horrible year so far. The sector is down 17% so far in 2013. It is the most beaten-down group of stocks over the past two years.
Valuations have reached the point of absurdity. I'm not waiting to buy gold stocks anymore…
I've seen this setup before.
[ad#Google Adsense 336×280-IA]When the gold-stock sector melted down in October 2008, my
Advanced Income
readers were big buyers…
We made 23% in two months with Anglo American and 28% in three months with Yamana Gold (AUY).
We also traded Hecla Mining (HL) for a 110% profit in seven months.
We bought gold stocks again when the sector dipped lower in early 2010.
That produced a 28% gain on Silver Standard Resources (SSRI) in seven months.
And we bought aggressively during the gold-stock declines last May and July. We traded positions in stocks like Aurizon Mines (AZK), Iamgold (IAG), Paramount Gold (PZG), and, again, Silver Standard Resources (SSRI).
Each of those trades produced gains between 12% and 60% by the time we cashed out of them as the sector peaked in September.
I expect similar returns this time around.
The mining sector is the single-best value in the stock market right now. Gold stocks aren't just ridiculously cheap relative to the S&P 500… They're also cheap relative to gold. And they're cheap relative to any measure of "normal" price action.
Let me explain…
Take a look at this chart comparing gold stocks – as measured by the Gold Bugs Index (the "HUI") – to the price of gold…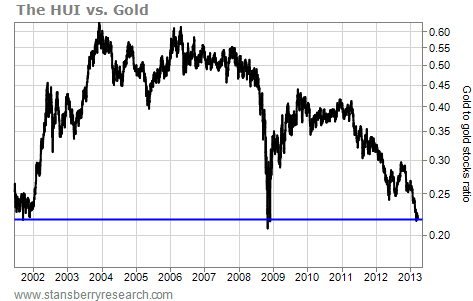 Relative to gold, gold stocks are as cheap now as they were when gold first entered its bull market 12 years ago in late 2001. And they're nearly as cheap as they were during the mass liquidation phase in October 2008.
Of course, those were the best times of the past 12 years to buy into the gold sector. The HUI rallied 200% during the first six months of 2002… and 100% in the two months following the October 2008 meltdown.
Today, we have a similar situation.
We also have the potential for one heck of a buy signal coming from the gold sector bullish percent index (the BPGDM).
The BPGDM is so oversold, it's almost mathematically impossible for gold stocks to get much cheaper. The percentage-based index can range anywhere from zero to 100. On Wednesday, it closed at 3.33. Take a look…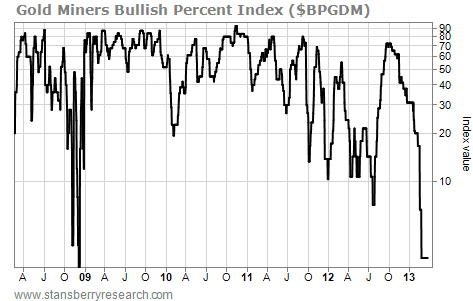 The only time the BPGDM was more oversold than it is now was back in October 2008, when the index dropped to zero. The HUI was 100% higher just two months later. And within one year, it had gained 230%.
We'll officially get a buy signal from the BPGDM when it turns higher from here. Normally, I'd wait until we get that signal before buying gold stocks. But given how oversold the sector is, gold stocks could easily move 10%-15% higher before the BPGDM turns up from here. And we don't want to wait for that to happen.
Plus, I don't see gold stocks falling much farther from here.
Earlier this month, the Market Vectors Gold Miners Fund (NYSE: GDX) closed 18% below its 50-day moving average (DMA). GDX rarely moves more than 15% in either direction from its 50-DMA – which often acts as an intermediate-term "magnet" for the sector – before reversing and heading back toward the line. Here's the chart…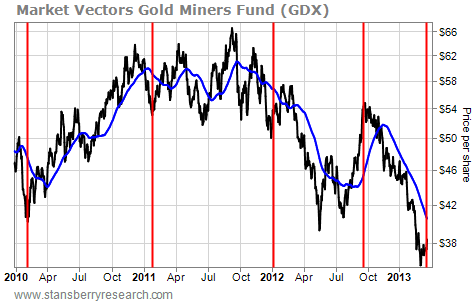 The red lines on the chart indicate when GDX strayed 15% or more away from its 50-DMA. Over the past three years, there have been five extreme moves to the downside and one extreme move to the upside. In each case, gold stocks reversed course and headed back toward their 50-DMA (the blue line on the chart).
The same thing is happening now. Since bottoming earlier this month, GDX has started moving back up toward its 50-DMA.
The rally in beaten-down gold stocks is starting. And now is the time to buy.
Best regards and good trading,
Jeff Clark
[ad#stansberry-ps]
Source: DailyWealth