There's no sense in being bearish this time of year.
Stocks have a strong seasonal tendency to move higher from January through April. Just look at the action over the past two years as proof.
In 2011, the S&P 500 gained about 9% during the first four months of the year. Last year, it gained more than 6% over the same time frame.
[ad#Google Adsense 336×280-IA]As of [Thursday] morning, the S&P 500 is up nearly 7% so far in 2013… and it looks likely to move even higher.
So like I said… there's no sense in being bearish.
But there are plenty of reasons to be cautious right now…
From overbought technical indicators to extreme investor sentiment surveys to the Mother Indicator, there are several reasons to believe that stocks are overdue for at least a modest decline.
And if that's not enough to convince you to be careful, here's one more reason…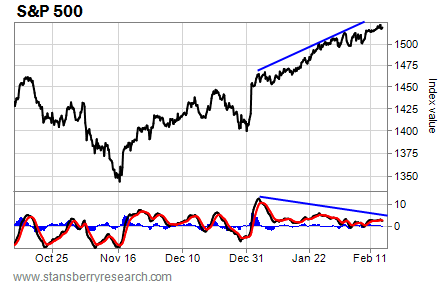 This is a 60-minute chart of the S&P 500. It's useful for monitoring potential short-term movements lasting from a few days to a couple weeks. You can see the steady move higher since the beginning of the year.
You can also see how the MACD momentum indicator (the bottom part of the chart) – which measures the strength or weakness of a trend – has fallen as stocks have moved higher. This "negative divergence" indicates that the momentum behind the rally is weakening, and the current uptrend may be nearing an end.
It's rare for this sort of negative divergence on the 60-minute chart to continue for more than five or six weeks. Either the momentum picks up to add more fuel to the rally or the rally ends and stocks enter a correction.
If you look closely, you can see some mild negative divergence on the MACD indicator starting in late November and continuing for about four weeks. The S&P 500 gave up all those gains in the final two weeks of December.
The negative divergence in place right now is more pronounced. So I suspect we could get an even quicker move lower.
That doesn't mean it's time to sell everything and run for cover… But it is time to be careful. Tighten up your stop losses. Hold off on plowing tons of new money into the market. And maybe buy a few put options to hedge your portfolio.
We still have a couple more months of bullish seasonal influences to look forward to. But as I mentioned on [Thursday]– and as the 60-minute chart of the S&P 500 suggests – stocks may be headed for a bit of a rough patch over the next couple weeks.
Best regards and good trading,
Jeff Clark
[ad#stansberry-ps]
Source: The Growth Stock Wire