Last year, I made an outrageous prediction…
I said gold stocks would be the best income opportunity of 2012. The stocks were so cheap, the downside risk was minimal… and the income you could collect from selling options against your shares was enough to generate enormous returns – even if the stocks didn't go anywhere.
Despite the mining sector dropping 11% last year (as measured by the AMEX Gold Bugs Index, or "HUI"), my subscribers were able to pocket some terrific gains… including 44% on Paramount Gold (PZG), 28% on Taseko Mines (TGB), and 18% on Iamgold (IAG).
[ad#Google Adsense 336×280-IA]And we're going to do it again this year…
The idea behind these trades is simple.
You buy a gold stock at a dirt-cheap price and then sell to someone else the right to buy the stock from you at a higher price.
You collect cash upfront for selling that "right," and the money appears in your account immediately.
The idea here is to generate income.
We're not trying to buy stocks and hold them for a double- or triple-digit return.
We're trying to generate 15%-20% income without taking on a lot of risk.
And right now, gold stocks are offering us a fantastic opportunity to do just that…
The HUI, which tracks a basket of major gold producers, is down nearly 20% in just the past three months… and it has created a number of bargains in the sector again. Lots of big names in the mining sector are trading with single-digit price-to-earnings ratios and yielding more than 2.5%. That's a significant discount to the S&P 500, which trades for 14 times earnings and yields less than 2%.
The mining sector fell 11% last year. And it's down 24% over the past two years. This is the first back-to-back losing streak for miners since the great gold bull market kicked off 12 years ago. Somehow, I don't think we'll see a third year of losses. In fact, I suspect mining stocks may outperform the broad stock market by a wide margin this year.
Take a look at this two-year chart comparing the performance of the mining sector versus the S&P 500…
When the chart is rising, the S&P 500 is outperforming the miners. When the chart is falling, miners are outperforming the S&P 500. As you can see, we're approaching the highest level of mining-stock underperformance we've seen in the past two years…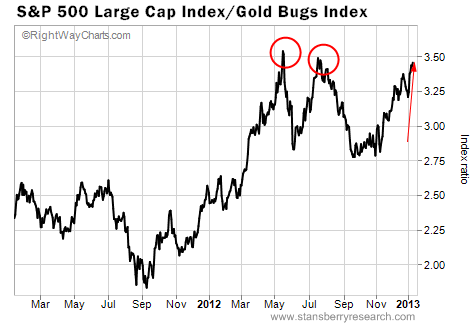 The red circles on the chart indicate the last two times we've been at this level – which also happens to be the last two times I loaded the Advanced Income portfolio up with mining stocks.
It's time to load up again.
The thing is, you can't just buy a bunch of gold-mining stocks at any price… sell covered calls against them… and expect the trades to work out profitably.
The success my Advanced Income readers saw last year came from patiently waiting for the mining stocks to hit bargain levels – absurdly low prices where it was hard to imagine them moving lower. Then we sold covered calls that forced us to sell the stocks and take profits as prices recovered.
For example, we traded Iamgold last May. The stock was trading at a ridiculously depressed price. Iamgold rallied over the next few months, and we were "forced" to take an 18% gain on option expiration day in September. Today, Iamgold is trading below what we were forced to sell it for.
It was the same thing with Aurizon Mines (AZK). We bought the stock in April, and had it called away from us in September for a 19% gain. Now, Aurizon is trading well below our sale price.
So the secret to this strategy is to buy cheap gold stocks, sell calls that generate a reasonable income stream upfront, and be willing to get out of the trade at a solid profit.
It's a strategy that worked well for us last year. And I suspect it'll work well again this year.
Best regard and good trading,
Jeff Clark
Sponsored Link: Jeff just showed his Advanced Income subscribers his favorite mining-stock trade right now. If the stock goes down, you have a 10% cushion. If the stock goes nowhere, you make 10%. And if the stock rises, you'll collect 18% in five months. To access Jeff's latest issue… and learn more about the simple strategies Jeff uses to collect thousands of dollars in "side income" from the market… click here.
Source: DailyWealth