Don't worry if you missed last week's rally in the stock market. You should get one more chance to buy later this week.
All of the major indexes posted strong gains last week. The S&P 500, for example, was up almost 4%.
And the market's proverbial "rubber band" went from overstretched to the downside to overstretched to the upside in just one week.
[ad#Google Adsense 336×280-IA]So even though I still expect stocks to work even higher over the next few weeks, the market is too overbought for traders to jump into right here.
It's a far better idea to wait for at least a modest pullback.
Fortunately, you probably won't have to wait too long.
Take a look at this chart of the Volatility Index (or "VIX") plotted against its Bollinger Bands…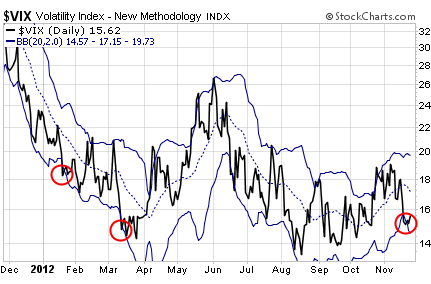 The Volatility Index is best used as a measure of investor fear and/or complacency. When the VIX is falling, it shows that investors are getting more comfortable with the stock market. That typically happens as stocks rise.
A rising VIX, on the other hand, indicates increasing levels of fear among investors. Usually, that happens when stocks are falling.
Bollinger Bands measure the most probable trading range for a stock or an index. When a chart pokes outside of its Bollinger Bands, it indicates an extreme move – one that is likely to reverse.
As you can see from the chart above, the VIX closed below its lower Bollinger Band last Tuesday. It then rallied and closed back inside the bands on Thursday. That is a technical "buy" signal for the VIX. And since a rising VIX is usually bearish for the stock market, it's a good signal that stocks may give up some of last week's gains over the next few days.
The red circles on the VIX chart show the previous times we've seen VIX buy signals this year. The VIX didn't always spike higher immediately. But it did work higher over the next couple weeks.
Since a rising VIX is typically bearish for stocks, similar action on last week's VIX buy signal should give traders another chance to buy stocks at slightly lower prices.
So if you missed out on last week's rally, be patient. You should get another buying opportunity sometime over the next week or so.
Best regards and good trading,
Jeff Clark
[ad#stansberry-ps]
Source: The Growth Stock Wire