You either believe in the prospects for a year-end rally in stock prices or you don't.
If you do believe – and if you read what I wrote here and here – you probably bought into last week's decline. And you should still be buying today.
Here's why…
Take a look at this chart…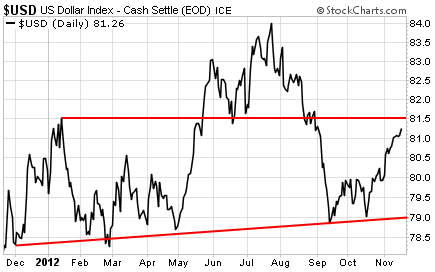 As the S&P 500 dropped to a multi-month low of 1,343 last Friday, the U.S. Dollar Index came close to tagging its January high – and our upside target for this bounce in the buck.
[ad#Google Adsense 336×280-IA]This is an ideal place for the dollar rally to come to an end… or at least take a long pause.
And since just about everything seems to trend opposite of the dollar these days, if the dollar stops rallying, everything else should start rallying.
So it's time to start buying stocks.
Yes, it's tough to do.
We're still dealing with possibly falling over the "fiscal cliff."
Missiles are exploding in the Middle East. There's rioting in the streets of Greece. And my local 7-Eleven is all out of Twinkies.
Times are tough.
But as sure as Santa will show up at the end of the Macy's Thanksgiving Day Parade, he's also going to show up on Wall Street by the end of the year. The only question is whether or not he's on his way just yet.
I think he is.
Of course, there's no way to guarantee it. But I suspect Friday's low near 1,343 on the S&P 500 will prove to be the low for this particular decline phase. We may need to retest that level. And I'd be a little cautious chasing any rallies that run too far, too fast. But for the most part, traders should be looking to buy stocks here.
I'm sticking with my year-end target of 1,430 on the S&P 500. That's a 5% gain from last Friday's closing price. And it would be an excellent return for the next six weeks.
Best regards and good trading,
Jeff Clark
[ad#stansberry-ps]
Source: The Growth Stock Wire