The gold royalty business is incredible these days… just look at what's happening to Royal Gold.
Just over a year ago, I explained how Royal Gold shares could jump 120%. My thesis is on its way to coming true…
Shares are up 75% since its bottom in May 2012… and 39% since I wrote that essay.
Most Stansberry & Associates readers are familiar with Royal Gold… It's one of the world's best, most diversified ways to profit from rising gold prices…
[ad#Google Adsense 336×280-IA]Rather than owning gold mines or exploring for gold itself, Royal Gold helps finance mining companies… and earns a "royalty" on their gold production.
Royal Gold doesn't take on typical gold-company risk, like an unsuccessful drilling program or problems with a single mine.
Instead, it collects royalties on more than 36 producing mines… and has royalties on 25 development projects.
This "fingers in many different pies" business model makes Royal Gold a diversified and leveraged way to play rising gold prices.
You can see the success of this model in the chart below…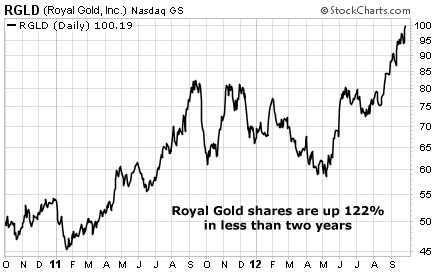 As you can see, shares of Royal Gold are up 122% since their January 2011 low of near $45.
But I believe the run is far from over. Royal Gold still has big gains ahead of it. Here's why…
Below is a table that shows Royal Gold's results in its fiscal years 2011 and 2012. The right-hand column is the percentage change from 2011 to 2012. As you can see, revenue and profits are surging.
The growth from 2011 to 2012 is critical to the rest of the story: How Royal Gold will soar in value over the next few years.
The price of gold is on the rise again, up 15% since its low in May 2012. Today, it's trading around $1,775 per ounce. It is already 6% higher than Royal Gold's average price last year. And with the endless money printing promised by the U.S. and other governments, the price should rise further.
Royal Gold's share of gold production should increase to nearly 175,000 ounces in 2013. That means even if the price of gold remains the same as this year, the company's earnings will jump 11%. However, if the price of gold goes up, those earnings will climb, too. If we see an average price of $1,900 per ounce, Royal Gold's earnings will grow by 30%.
And it gets better through 2015… when some big new royalties kick in. Royal Gold's share of gold production will climb to 330,000 ounces. So even if the price of gold remains flat, earnings will grow by 110%.
With shares up so much in the past few months, Royal Gold is due for a healthy pullback. If shares correct to the $90-$95 area, it's a good opportunity to buy this elite gold stock.
Good investing,
Matt Badiali
[ad#stansberry-ps]
Source: The Growth Stock Wire