Everybody agrees… gold is going higher.
All the talking heads on CNBC are bullish on gold. Just about every newsletter analyst expects gold to hit new all-time highs. Research firms are upping their price targets for the metal.
All my trader friends are itching to buy. And every engineer, lawyer, software developer, and soccer mom I talk to is expecting higher gold prices.
[ad#Google Adsense 336×280-IA]And that makes me nervous – so nervous, in fact, that I sold my entire trading position [this past Monday].
Don't get me wrong.
I'm still hugely bullish on gold over the long haul, and I still own all the "investment" gold I purchased at much lower prices many years ago.
But I sold everything I bought for a trade last month.
Back then, precious metals were trading near their lowest prices of the year.
Gold bulls were hard to find. It seemed no one thought the metal would run higher anytime soon.
Today, with gold trading $150 per ounce higher, everyone has high expectations. But there's more risk in the trade now. Gold is bumping into resistance at $1,775… And as a trader, it's time to take profits and look for a place to get back in at a lower price.
Take a look at this updated chart…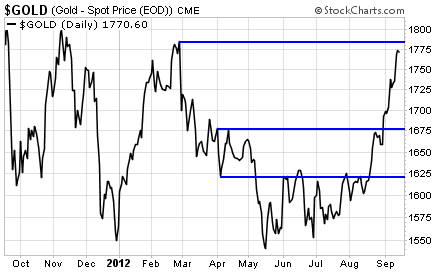 After such a strong move higher, gold is extended and in need of a rest. It may just consolidate around the $1,775 level for a couple weeks and build up energy for another move higher. But it's more likely gold will pull back a bit here toward support near $1,725 or perhaps down to $1,675. Either price marks a good spot to start nibbling on gold again.
There's an outside chance the metal could come all the way back down and retest its original breakout level at $1,625. I don't think we'll get that lucky. But if it happens, consider it a gift. You probably won't get another chance to buy gold that cheap again.
Buying gold right now doesn't look like a good trade. Too many people are too bullish. And it has run up so much so quickly, there's too much risk of a pullback. It makes more sense to buy gold on a pullback near $1,725 or $1,675.
Don't get me wrong… I'm certainly not bearish on gold. It's going much higher over the long term. And I still like owning gold stocks. But as a trader, it makes sense to take some profits here. The short term is less certain.
Best regards and good trading,
Jeff Clark
[ad#stansberry-ps]
Source: The Growth Stock Wire