A WARNING FOR ENERGY BULLS
Big oil is due for a sharp pullback…
Oil stocks have enjoyed an amazing run higher since the sector bottomed in June. The AMEX Oil Index (the "XOI") is up almost 20% in just the past four months.
Now, the sector is extremely overbought… and could be gearing up for a big drop.
[ad#Google Adsense 336×280-IA]The energy sector's bullish index (BPENER) measures the percentage of energy stocks trading with bullish technical patterns.
When this indicator rallies above 80, the sector is typically overbought.
As today's chart shows, yesterday, it closed at 98 – a new extreme.
With 100 as the highest score, it's nearly impossible for oil stocks to be more overbought than they are right now…
This latest reading starkly contrasts the BPENER's oversold reading of 15 back in June. It's a good indication of just how strong the oil stock rally has been… and how sharp the move lower could be.
– Jeff Clark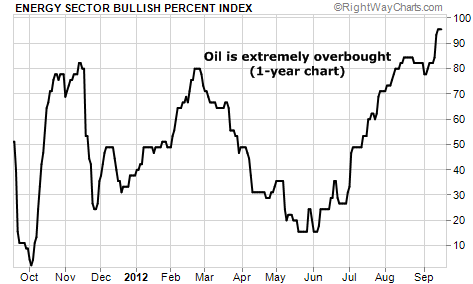 [ad#stansberry-ps]
Source: Market Notes