INVESTORS CAN MAKE A LOT OF MONEY AS THINGS GET "LESS BAD"
Is Greece better off today than it was four months ago?
According to the following chart, the poster boy for sovereign mismanagement is 80% better off today than it was back in June.
[ad#Google Adsense 336×280-IA]That's how much Greek stocks have rallied in the past four months.
We don't know what this chart says about investors.
And we can't tell you whether Greek stocks are a buy or sell at this point.
What we do know, though – and what this chart correctly points out – is that the world has a habit of not coming to an end.
And as my friend and colleague Steve Sjuggerud likes to say, investors can make a lot of money when conditions go from "bad to less bad."
– Jeff Clark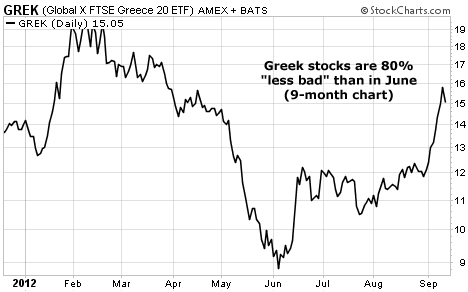 [ad#stansberry-ps]
Source: Market Notes