Once again, it's just about time to buy the buck.
Since peaking in July near 84, the U.S. Dollar Index has tumbled 6%.
That may not seem like much of a move – after all, there are plenty of stocks that can move 6% in a day – but for a currency, it's huge…
And it's that weakness in the dollar that has supported rallies in just about everything else.
[ad#Google Adsense 336×280-IA]Think about it… Since the dollar peaked in July, the S&P 500 is up 8%.
The benchmark CRB commodity index has rallied 9%.
Oil is up 10%. Gold and silver are up 11% and 24%, respectively.
Make no mistake about it… a falling dollar is bullish for prices of just about every other asset.
Of course, the flip side of that argument is that a rising dollar is bearish for just about every other asset.
And that's what traders should be on the lookout for right now.
Take a look at this chart of the U.S. Dollar Index…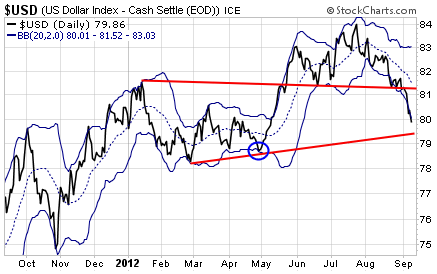 After breaking support just above 81, the index has collapsed and is rapidly approaching a more important secondary support level just above 79. This is a logical spot to expect the dollar to bounce. And given the severity of the decline, it could be one heck of a bounce.
The blue lines on the chart show the Bollinger Bands. Bollinger Bands help measure the most probable trading range for a security. Any move outside of the bands is considered extreme, and is vulnerable to a reversal.
[Last] Tuesday, the dollar closed below its lower Bollinger Band. It is now extremely oversold, and we'll have a "buy" signal on the buck when it closes back inside the bands. The last time that happened was back in late April… just before the Dollar Index rallied 6% in five weeks.
If you're looking for something to buy now that the S&P 500 is trading at a four-year high, precious metals have exploded higher, commodity prices are off the charts, and nothing looks "cheap" anymore… Maybe it's time to buy the buck.
Best regards and good trading,
Jeff Clark
[ad#stansberry-ps]
Source: The Growth Stock Wire