One hundred billion dollars – that's how much money IBM has spent on "stealth dividends" since 2003.
The company has said it has plans to spend an additional $50 billion on "stealth dividends" through 2015.
This is wealth that was transferred directly to shareholders – tax-free. But it's likely not one in 10 of them noticed.
It's possible you're receiving these "stealth dividends," too.
[ad#Google Adsense 336×280-IA]If you are, you're participating in one of the world's greatest investment strategies… even if you don't know it.
Let me explain…
Warren Buffett – the best investor alive today – is a big fan of "stealth dividends."
He's a big shareholder of IBM.
And last year, he initiated a similar "stealth dividend" plan for his company – Berkshire Hathaway.
Berkshire Hathaway hasn't paid out one regular dividend in the decades Buffett has been at the helm. Why would it start paying out these "stealth dividends" now?
For investors, the benefit is huge…
If you had invested $10,000 in a "stealth dividend" strategy in 1927, it would have turned into $421,203,905 by 2009. Since 1965, the numbers are just as good… Stocks in general have returned 11% a year. But this "stealth dividend" strategy has returned 15.7% since 1965.
Except for a microscopic blip of underperformance around the year 2000, this strategy never had a five-year period of underperforming the stock market in the last half-century.
That's according to the latest edition of the book What Works On Wall Street. It describes how well investors can do when they invest in companies that buy back their own shares.
A share buyback program is like a "stealth dividend."
You see, when a company decreases its share count, your ownership in the company increases. Say you own 10 shares in a company that has 100 shares outstanding. And let's say the company buys back 50 shares over a few years… Now you own 10 shares of a company with only 50 shares outstanding.
Instead of owning 10% of the business, you own 20%. Your ownership has doubled. And assuming the value of the business is the same, your shares are worth twice as much… and unlike with regular dividends, you don't have to pay a dime in taxes.
That's why you can do so well as an investor by concentrating on companies that regularly buy back their shares…
The buyback strategy is simple, in principle. You take the 10% of companies with the largest percentage decreases in shares outstanding each year, and buy them. But it's difficult in practice… You and I couldn't easily implement this strategy.
Fortunately, we have a fund that holds companies doing major buybacks… and it has the same record. Starting from any month in its existence (going back to 1996), it's never had a losing five-year period.
This fund is the PowerShares Buyback Achievers Portfolio (PKW). As the following chart shows, this fund has crushed the S&P 500 since its inception. Its average annual outperformance is just astonishing… at 7% a year.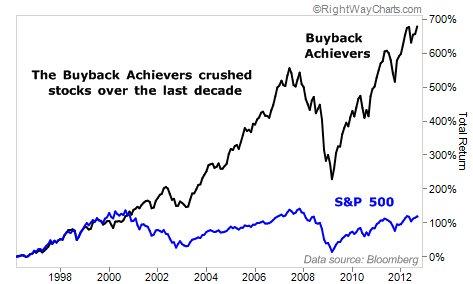 Next year, if the companies in PKW pay cash out as a dividend, it will be taxed at a maximum rate of 39.6%. At those rates, I don't want dividends… I'd rather the company use that cash to buy back its shares.
Share buybacks are best when stocks are cheap (like right now). And when they're done right, they're really like a "stealth" tax-free dividend.
History shows that buying a "basket" of buyback stocks makes you real money… As I said, the strategy hasn't lost money over any five-year period in the last half-century (except for a tiny loss in 2000).
PKW is the easy way to do it. The strategy is simple. It holds companies that have bought back more than 5% of their shares in the last 12 months.
Its top holding is – you guessed it – IBM. Its No. 2 holding is Intel, which is crazy cheap, trading for less than 10 times next year's earnings.
So far this year, PKW is slightly underperforming the overall stock market. But that doesn't worry me. Buybacks won't always beat stocks in the short term. But over the long term, history shows it's a solid way to beat the overall market.
Since 1927, this simple idea trounced the stock market and turned $10,000 into over $421 million. And PKW gives us an easy, one-click way to invest.
Good investing,
Steve
[ad#stansberry-ps]
Source: DailyWealth