There's still plenty of money to be made in gold stocks.
They've had a great run. The Market Vectors Gold Miners Fund (GDX) is up 16% in just the past month. After such a huge move, it's normal to expect a brief pullback or at least a pause in the rally. And we'll probably get that.
But traders should use any weakness in the gold sector over the next week or so as a buying opportunity… because there's more upside ahead…
Take a look…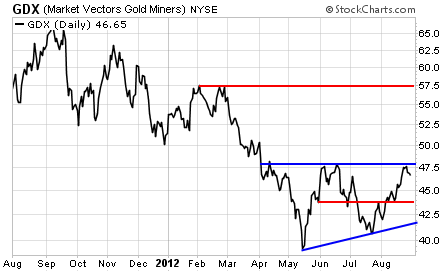 The blue lines on the chart above show the trading range for gold stocks since April.
[ad#Google Adsense 336×280-IA]GDX is now bumping into the upper end of the trading range.
So it's reasonable to expect some sort of a pullback here.
But if this month-long rally is really the start of a longer-term move higher for the gold sector, GDX shouldn't give back more than 50% of its recent gains.
Traders should view any drop toward support (the red line) just below $45 as a gift from the market gods.
It's a low-risk entry spot to jump into the sector.
Of course, we may not get that pullback. The market doesn't always give traders a low-risk chance to hop onboard a major uptrend.
It's possible GDX could just power higher from here. A decisive move above $48 per share will push GDX out of its five-month-long trading range. If that happens, forget about waiting for a pullback. Just hop on board. GDX will be heading higher toward its next resistance level at about $57.50.
That's how I plan to trade the next move in gold stocks. I'm buying any pullback toward support near $45… or on any breakout above $48.
Best regards and good trading,
Jeff Clark
[ad#stansberry-ps]
Source: The Growth Stock Wire