Silver kicked off a new, explosive uptrend on Monday…
After consolidating in a tight trading range between $26 and $28 per ounce for the past two months, silver busted out to the upside. The precious metal jumped $2 in just three days. It was a dramatic move. And you had to be in the trade by last Friday [the 17th] to profit from it.
The obvious question today is, "What do I do now if I missed the silver breakout?"
To figure out the answer, let's take a look at the chart…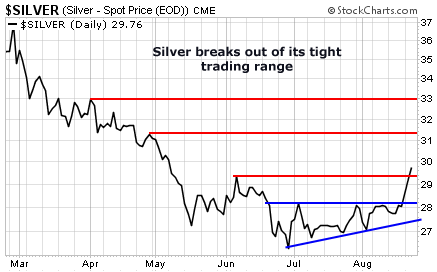 As I mentioned on Tuesday, I think there's enough strength behind this move to ultimately challenge silver's April high near $33 per ounce. But the move over the past [week] was dramatic, and silver could use a few days to catch its breath.
[ad#Google Adsense 336×280-IA]Silver is over-extended here in the very short term, and it's bumping up against resistance at $29.80.
So this is a logical place for the rally to pause.
And it's the nature of that pause that'll determine how to trade it from here.
It's normal for charts to come back down and re-test their breakout levels.
In that case, patient traders can look to buy silver on a move back down near $28.30 or so.
But strong breakouts like this – the kind that kick off important intermediate-term uptrends – usually don't make it easy for late-coming traders to get in.
Instead of pulling back, charts with strong breakouts simply waffle back and forth around the new resistance level for a couple days. Then they explode higher again… leaving patient traders in the dust.
It makes sense to nibble on a little silver on even just a small pullback over the next few days. There's more than $3 per ounce in upside potential. And there's about half of that in downside risk if silver comes back to retest its breakout level. So the risk versus reward setup is still favorable. And buying a little silver here – even after such a fast run higher – can still pay off well.
But hold back some ammunition just in case silver does retest the $28.30 price level. If that happens, consider it a gift from the market gods… and use it to take a full position in the metal. It may turn out to be your last chance to buy silver below $29 for a long, long time.
Best regards and good trading,
Jeff Clark
[ad#stansberry-ps]
Source: The Growth Stock Wire