The last two times the "dumb money" was this bullish on oil, they got crushed.
The "dumb money" hit maximum bullishness in March 2011. The benchmark U.S. crude price peaked that May at $112 per barrel… and fell 30% over the next five months.
The "dumb money" got bullish again this past February. Oil peaked on February 24 at $109 per barrel… and fell 29% over the next four months.
[ad#Google Adsense 336×280-IA]The oil price has since rallied 20%… and the "dumb money" is excited again.
The "dumb money" is hedge-fund money. These are speculators… not "commercial traders."
Commercial traders are the folks who physically produce and consume a commodity.
For example, commercials in the oil market include producers and refiners.
These are the folks who actually use oil.
They are the experts and are intimately involved in the fundamentals of the industry.
They're the "smart money."
The non-commercial traders are the big speculators, like hedge funds. These participants are in the market simply to make money by betting on commodity price movements. They're the "dumb money." They tend to sell at the bottom and pile in at the top… So when you see them piling in… you know a drop is around the corner.
You can see this "piling in" action in the Commitment of Traders report. This report tracks the volume of trades in commodities and currency futures. And it shows who is buying a given commodity… and who is selling it. It lets us track the flow of money.
Right now, the dumb money is flowing into oil. You can see it in the chart below. The blue line is the net long oil contracts held by non-commercial traders. Right now, the blue line is nearing the peaks it saw in March 2011 and February 2012… just before oil prices crashed.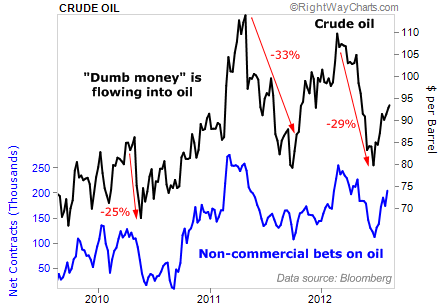 While we aren't at an extreme yet, we are heading that way. And the last two times the dumb money was this long, things ended badly.
As regular readers know, this is just one more signal the price of oil could collapse in the near future. We covered this story here and here as well.
The fundamental data don't support high oil prices, and now a wave of dumb money is betting oil prices will rise… In the past, that's indicated a top in oil prices… and a coming crash. This time, I expect we'll see the same thing.
Good investing,
Matt Badiali
[ad#stansberry-ps]
Source: The Growth Stock Wire