The last time gold stocks were this cheap, they soared 172% in eight months…
Today, by my favorite measure, gold stocks are record-cheap again…
They have only been this cheap once in the last decade – and that was in late 2008, when gold stocks (as measured by GDX, the main gold-stock fund) bottomed out at $17.
Just over two years later, shares of GDX reached $60 a share, for a phenomenal profit.
The stage is set for similar gains today…
Take a look at the following chart. It shows the performance of gold versus gold stocks: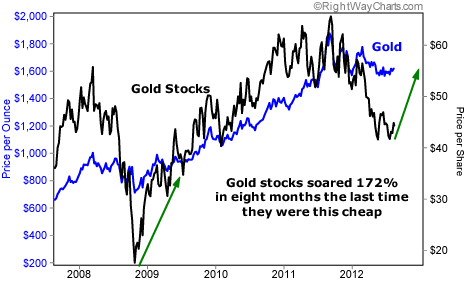 You can see how gold stocks crashed in the financial crisis in late 2008. That drove them to their biggest discount to the price of gold in the last 10 years – until now.
[ad#Google Adsense 336×280-IA]The astounding part today is, it is NOT late 2008.
People are NOT selling all their investments like they were back then.
Instead, investors today have simply given up on gold stocks.
Gold stocks recently hit the same discount to gold as we saw back in 2008, according to my favorite measure of gold-stock value.
That is what I like to see.
My favorite measure of gold stock value was created by John Doody – the founder of the Gold Stock Analyst newsletter.
John tracks dozens of gold producers in his newsletter. His measure of value takes two things into account. He sizes up:
1. The stock market value versus the dollar value of the company's reserves in the ground.
2. The stock market value versus the dollar value of the company's annual production.
In my mind, this analysis makes total sense. It is like the traditional value metrics (price-to-book value and price-to-earnings), but it specifically applies to gold-producing companies.
Importantly, this "value" number John comes up with for gold stocks in general has proven to be remarkably accurate. When it says gold stocks are overvalued, they go nowhere. And when gold stocks are undervalued, you can make incredible returns.
John only crunches this number monthly. As of August 1, gold stocks were 35% undervalued.
So right now, gold stocks have all three things in an investment idea… I like to see it CHEAP, HATED, and IN AN UPTREND.
Gold stocks were undervalued on August 1. Investors have given up on them. And it looks like an uptrend is in place… GDX is up about 10% since July 23.
This is an exciting opportunity to set up a trade with incredible risk-versus-reward characteristics.
You can set a stop loss at the recent low of $40.70. (If it falls below that, we are likely wrong on this idea for now.) That way, your potential loss is less than 10% from today's price.
Meanwhile, your upside potential is dramatic. If history repeats and we see a rally like 2008-2009 in gold stocks, you could more than double your money in just eight months.
Remember… the last time gold stocks were this cheap, they soared 172% in eight months… and made investors a few times their money in two years.
Gold stocks are coming off record-cheap levels. An uptrend is in place. And you can set up an excellent trade, with limited downside and large upside potential.
It's finally time to trade gold stocks again… And this is the way to do it…
Good investing,
Steve
[ad#stansberry-ps]
Source: DailyWealth