Two months ago, I told my readers to expect a wave of bankruptcies in the energy sector.
The situation was dire. Companies producing natural gas in America's shale fields were already suffering from record-low natural gas prices. And one of their alternate sources of revenue was under threat.
Things have gotten much worse since then. I expect to see some energy producers go under by the end of the year. Shareholders will be devastated. Let me explain…
[ad#Google Adsense 336×280-IA]As natural gas prices fell in 2011, producers began to rely more and more on something called "natural gas liquids."
Natural gas liquids (NGLs) are hydrocarbons like butane, ethane, and gasoline.
(These liquids are refined into hundreds of products you use every day – like plastics and propane.)
Traditionally, these are priced more like crude oil than like natural gas… which means that over the last 18 months, companies could earn a lot more money selling NGLs than they could selling so-called "dry gas."
It was so much more profitable that almost all the companies who were drilling for natural gas switched to areas rich in NGLs. The Haynesville shale in Louisiana is a dry-gas shale. It saw the drill-rig count drop from 79 a year ago to just 18 today.
Meanwhile, the Eagle Ford shale in Texas, which holds a lot of NGLs, saw the number of drilling rigs rise from 153 a year ago to 232 in mid-May 2012.
But with all those rigs drilling for NGLs, the supply has overwhelmed demand.
You can see what I mean in the chart below. The blue line is the price of 1,000 cubic feet (mcf) of natural gas. The black line is the equivalent NGL price.
For most of 2010… all of 2011… and the first five months of 2012, an mcf of natural gas liquids was far more valuable than natural gas. At the peak, operators received twice as much money for NGLs as they did for the same volume of dry gas.
But over the last month, the price of NGLs has fallen below the price of dry gas…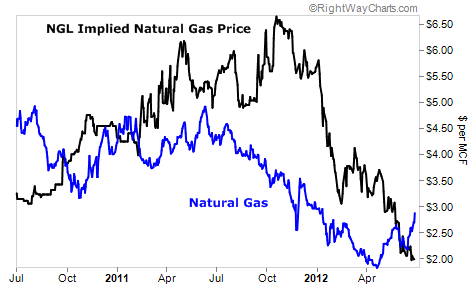 This is a HUGE problem for producers. Many of them are getting the majority of their revenues came from natural gas liquids… and the price is down 70%.
In May, I listed four companies that got high percentages of revenue from natural gas liquids. Since then, their share prices are down an average 15%. And I believe the drop is only beginning.
I've listed the names below, along with a few more companies to watch out for…
If you own shale gas explorers, it's time to sell.
The second-quarter earnings aren't out yet, but they will be ugly… and few of the shale gas producers will escape. Producers that just "got by" last year could go belly-up this year.
I expect to see almost all the companies in the space revise their 2012 earnings downward, thanks to the crushing decline in natural gas liquids prices. It could be a blood bath.
Good investing,
Matt Badiali
[ad#jack p.s.]
Source: Daily Wealth