Gold bugs may soon get a chance to buy their favorite metal at the lowest price of the year.
The shiny yellow metal started off 2012 in fine form. The price of gold was up as much as 12% in just the first three months of the year. But it has been struggling lately. And now, those gains are gone.
In fact, based on the following chart, gold could be going on sale for the summer…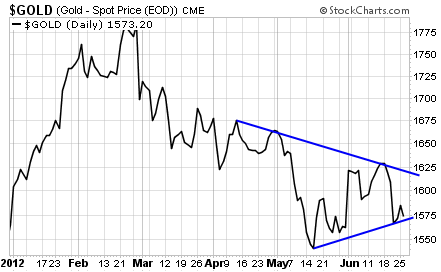 This chart shows a consolidating-triangle pattern. It's a series of higher lows and lower highs.
[ad#Google Adsense 336×280-IA]When an asset breaks out from this pattern, the move is often violent and usually in the direction the asset was trading as it entered the pattern.
Since gold was trending lower in March and April, the odds favor a break to the downside of the triangle. So be ready for lower prices.
How low?
Typically, the projected move out of a consolidating triangle is equal to the height of the triangle itself.
The top of the triangle is at $1,670. The bottom is near $1,530. So we're looking at the potential for a $140 move once gold breaks out of the triangle.
There's still plenty of room for gold to chop back and forth before it reaches the apex of the triangle and is forced to break one way or the other. And there's always the possibility the chart could break to the upside. But the odds favor a downside break and a sharp move lower sometime over the next few weeks. The target price is somewhere around $1,350 per ounce.
Get ready to buy gold on sale in July. The world's central banks are going to continue to print money and monetize their debts. So the long-term case for owning gold remains as strong as ever.
Consider a hard drop lower over the next few weeks a buying opportunity. Get ready for it.
Best regards and good trading,
Jeff Clark
[ad#jack p.s.]
Source: The Growth Stock Wire