In the last two months, the benchmark U.S. crude oil price has dropped more than 20%.
And it's not done falling.
As regular Growth Stock Wire readers may remember, I began writing about a collapse of the price of crude oil back on April 4. At the time, oil prices were still up around $105 per barrel.
[ad#Google Adsense 336×280-IA]Back then, I noted how the huge and growing U.S. oil inventories, coupled with growing U.S. production, would cause prices to drop.
Since then, the price of crude oil has fallen below $80.
Last week alone, we saw prices decline 6%.
Today, I'll show you why I think oil prices are going even lower…
The fundamentals of supply and demand remain out of balance in the oil market. Two months ago, I showed you how much more oil we had in storage than the 10-year average. Here's an updated chart…
You can see things have gotten even more extreme.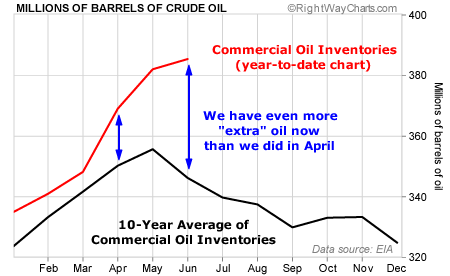 One important point to note is that usually, the oil in storage is declining by June as the summer driving season kicks in.
This year, according to the Energy Information Administration's data, the volume of oil in storage is still rising into the summer. It hit 387.3 million barrels at the end of last week. That's 11% more than it was when we checked in April. And it's 12% above the average for this time of year.
In other words, the world's largest oil consumer has a lot more oil around than it usually does. So supply is up, what about demand?
Turns out demand is way, way down. Gasoline constitutes 42% of oil demand here in the U.S. So we can use the volume of gasoline supplied by refiners as a rough gauge. In April, which is the latest data available, we see the gasoline consumption was about 344.6 million gallons per day. That's the lowest consumption for the month of April since 1997.
Demand is not only failing to keep pace with the huge new supplies coming online… it's actually falling.
It was a recipe for lower oil prices two months ago. The same is true today. I don't know exactly how far it could fall, but $70 or $60 is easily possible in the next six months.
Good investing,
Matt Badiali
P.S. [Wednesday], my colleague Jeff Clark showed you how oversold oil stocks are right now. He's expecting a short-term bounce soon. He might be right. But I believe the long-term trend is still down. Unless you're a trader, you should probably be out of oil stocks here.
[ad#jack p.s.]
Source: The Growth Stock Wire