A PERFECT CASE OF "BUY THE RUMOR, SELL THE NEWS"
Shares of Arena Pharmaceuticals (ARNA) have tripled over the past month.
The company expects a decision from the Food and Drug Administration next Wednesday on its experimental, prescription diet drug, lorcaserin.
In early May, an FDA Advisory Panel gave the drug a "thumbs up."
[ad#Google Adsense 336×280-IA]Since then, the stock has skyrocketed. And expectations are high for further gains after final approval is announced.
Maybe too high…
At $10 per share, ARNA commands a market capitalization of $1.8 billion.
The stock trades at 165 times sales and 40 times book value.
There is no price-to-earnings ratio since the company has never posted a profit. And the stock's chart has gone parabolic.
ARNA should get final FDA approval for lorcaserin next week.
Looking at the chart, though, this setup could turn out to be a perfect case of "buy the rumor, sell the news."
ARNA may be headed lower from these extended levels.
– Jeff Clark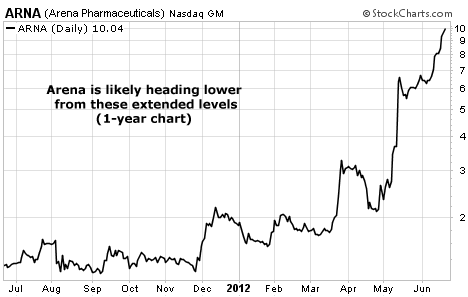 [ad#jack p.s.]
Source: Brian Hunt's Market Notes