Everyone knows the cliché, "Few things in life are certain."
Well, even fewer things are certain when it comes to the financial markets…
But one thing we can usually count on is the willingness of the political class to do whatever it takes to goose the economy and the stock market higher just in time for an election.
And that means a third round of quantitative easing.
[ad#Google Adsense 336×280-IA]The only question is whether it happens in July or after the Federal Open Market Committee meets next week.
Either way, we'll make money by investing in a sector with a history of performing well following QE announcements…
Copper loves quantitative easing.
But right now, copper is in a miserable downtrend.
The metal is down 15% over the past six weeks.
Take a look at this chart…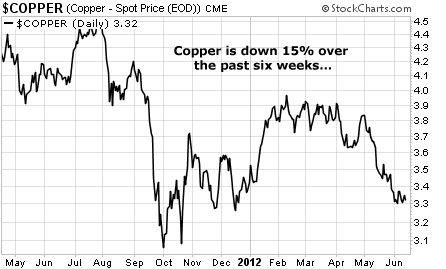 Copper is suffering from fears of a global economic slowdown. Europe is in a recession. China isn't growing as fast anymore. And the U.S. economy is hardly growing at all.
Since copper is an industrial metal, its price is sensitive to economic conditions. The price rises when investors anticipate growth. It falls when things slow down. So it has been falling lately.
But that may change as early as next week. Look at this longer-term chart of copper…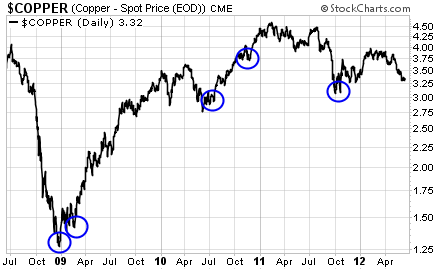 The blue arrows on the chart correspond to each date over the past four years where the Federal Reserve indicated its willingness to flood liquidity into the financial markets.
As you can see, the Fed announced its first quantitative easing program on November 25, 2008.
It expanded the size of the program on March 18, 2009.
The Fed hinted at starting a second QE program on August 27, 2010.
And it formally announced QE2 on November 4, 2010.
Finally, on October 4, 2011 the Fed joined with the rest of the world's central banks in a coordinated effort to provide liquidity to troubled European banks.
Copper rallied after each announcement. It'll rally after QE3 is announced as well. My guess is that will happen in July. But it may happen after the FOMC meeting next week. Either way… buying copper today – after a 15% decline over the past few weeks – could turn out to be a well-timed trade.
Best regards and good trading,
Jeff Clark
[ad#jack p.s.]
Source: The Growth Stock Wire