Right now, there's a real estate investment paying safe, 5%-8% yields.
This real estate is always in demand… even in recessions. It's easy to buy and sell – as easy as buying or selling a stock.
And it's a great situation for income investors.
Let me explain…
The real estate I'm talking about is the land where the nation's oil and gas pipelines sit.
[ad#Google Adsense 336×280-IA]The owners of this real estate – the operators of energy pipelines – can be a good friend to the income investor.
Pipelines are the "toll roads" of the energy industry.
They get paid a toll for every unit of oil or natural gas that moves through or is stored in their infrastructure.
Most pipeline owners have contracts up to 10 years or more.
Contracts often include adjustments for inflation. And some even strike "take or pay" contracts, where the pipeline receives a set fee, even if the full capacity isn't used.
In short, they make consistent profits whether oil trades at $50 a barrel or $150 a barrel. And in order to encourage infrastructure investment, the government offers pipeline operators a tax break if they pay out most of their income as dividends. So a lot of those profits get passed on to shareholders… through regular cash payouts.
The thing is, when energy prices fall, pipeline shares can fall, too. Over the last two months, the benchmark U.S. oil price has fallen about 24%. As DailyWealth readers know, natural gas has been clobbered. Even after a recent bounce, the price of natural gas is down more than 22% this year.
Because of the U.S. natural gas boom, these pipelines are going to enjoy extraordinary demand for decades to come. But pipeline giants Kinder Morgan Partners and Enterprise Product Partners are down nearly 20% this year. And the DataStream pipeline index is down as much as 11% since May.
This has made them cheap.
Since these are dividend-rich investments, my preferred way to value them is with a "spread" over U.S. Treasurys. (My colleague Dr. David Eifrig did the same with municipal bonds in this essay.)
The "spread" is simply the U.S. Treasury yield minus the yield on pipelines. Since 1973, the average spread is -1.9%. That means Treasurys usually pay 1.9% more than pipeline stocks. But today, the opposite is true. Today, pipelines pay 4.1% MORE than Treasurys. Take a look…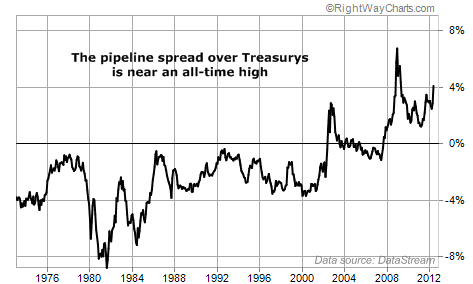 According to DataStream, pipeline companies have only paid a higher spread over Treasurys once. This was during the depths of the financial crisis… which was a fantastic time to buy pipeline shares.
Today, pipelines have the second-highest spread over Treasurys we've ever seen.
Based on history, high Treasury spreads have been GREAT buying opportunities. The last two times the spread peaked – in 2009 and 2002 – pipeline stocks soared by 58% and 93% in the next 24 months.
I've put together a table of a few of the major U.S. pipeline companies… along with their hefty dividends…
These companies pay an average dividend yield of 5.7%. That's more than three times the tiny 1.65% paid on 10-year U.S. Treasurys.
Importantly, while the companies have rallied in the past few days, the overall trend is still down. It wouldn't be smart to buy without the confirmation of an uptrend. We'll need to see these stocks exhibit just a bit of price strength first.
When they catch some upward momentum, these companies will be a fantastic option for any dividend-oriented investor.
Put these companies on your watch list for now. I'll let you know when it's time to buy this high-yield real estate.
Good investing,
Brett Eversole
[ad#jack p.s.]
Source: Daily Wealth