Gold stocks are finally showing some positive price action.
The Market Vectors Gold Miners Fund (GDX) is up 8% in the past week. It was higher [Wednesday] even as the broad market declined… And even though gold was down on the day.
It appears gold stocks are finally starting to outperform the action in the metal itself.
Take a look at this chart comparing the action in GDX to the action in the SPDR Gold Trust – the fund designed to mirror gold's price action…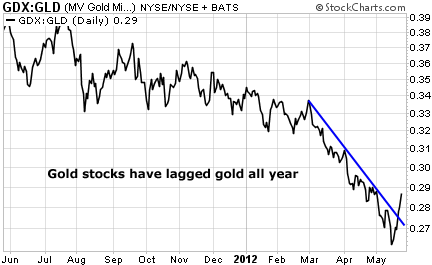 A falling line on the chart shows gold stocks are lagging the metal. A rising chart would indicate gold stocks were outperforming the action in the metal. As you can see, gold stocks have lagged the metal all year. The underperformance became even more extreme over the past three months.
[ad#Google Adsense 336×280-IA]But notice the pattern has finally broken above its recent series of lower highs.
Yes, it is just a tiny breakout for now… But it is the first ray of sunshine we've seen in the sector in over a year.
The best time to own gold-mining stocks is when the stocks are outperforming the metal.
In other words, you want to own gold stocks when this chart is rising.
We may have finally turned that corner last week.
This doesn't mean you should rush out and pile your entire life's savings into the gold sector. You have to pick your spots. And we still need to see a series of higher highs and higher lows on this chart to confirm the uptrend. But it's a promising start, and it's worth the risk for traders to add some gold exposure to their portfolios.
Best regards and good trading,
Jeff Clark
[ad#jack p.s.]
Source: The Growth Stock Wire