I am extremely bullish on natural gas.
For those of you who have been watching the price chart of natural gas… that probably seems strange.
As you can see in the chart below, the price of natural gas has been trending down for years…
I don't expect this to change much for several years.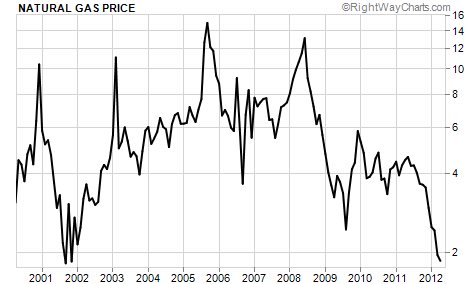 [ad#Google Adsense 336×280-IA]What explains the historic and dramatic collapse of natural gas prices?
As you'll recall from our extensive reporting over the years, a series of innovations – horizontal drilling and hydraulic fracturing (or "fracking") – has led to huge new oil and gas discoveries in areas (usually below 5,000 feet) impossible to tap economically.
The result has been a flood of new supply – supplies many, many experts believed would never be exploited.
In 1995, the U.S. produced just a little more than 23.7 trillion cubic feet of gas. That rate of production stood essentially unchanged for more than a decade. Even as late as 2006, we were still only producing 23.5 trillion cubic feet of natural gas. You will recall the doomsters talking about "peak oil" – the view that domestic production of hydrocarbons would never increase.
But starting in 2007, production began to soar, reaching more than 26.8 trillion cubic feet in 2010 and 28.6 trillion cubic feet in 2011 – a 22% increase over 2006. Demand for energy rarely grows much faster than the economy as a whole. Our economy has been mostly stagnant since 2007, which means natural gas supply in the U.S. has vastly outpaced demand.
The same trends of increased production are occurring in many places in the world. Globally, the supply of natural gas has increased from around 96 trillion cubic feet in 1995 to more than 141.6 trillion in 2010 (the latest data available). That's almost a 50% increase.
And these vast new global supplies form the foundation for the single biggest current opportunity in the natural gas boom.
For most investors, the opportunity unfolding in natural gas will be one of the best investment opportunities of the next decade.
I know that my enthusiasm for natural gas is unusual in a financial world driven by day-traders, chart-readers, momentum-followers, and other types of financial astrologers. But my rationale is far easier to understand than the mumbo jumbo I frequently see posited as financial advice… I prefer to buy high-quality assets when they're trading for as close to free as possible.
And right now, natural gas is so cheap that many companies are simply flaring it off – they're burning it – rather than bothering to pipe it across the country and sell it. Not only that, but right now, you can buy natural gas reserves in the stock market for free.
And wouldn't you know it… just as the price of natural gas has fallen far below its cost of production, Wall Street is suddenly interested in shorting it. A recent headline in the Wall Street Journal says it all: "As Natural Gas Cools, Trading Sizzles."
The article quotes Sid Perkins, a natural gas broker in Houston: "Over the past month, we have actually seen much more interest from traders and funds than at any point over the past year." Daily trading volume of natural gas futures is up 31% over last year on the Chicago Mercantile Exchange. Total open interest on the New York Mercantile Exchange is up 20% over last year.
Most of the big firms are shorting.
Sooner or later, the price of natural gas will rebound sharply… and not just because it always has in the past. What will propel natural gas prices over the medium term (say, five years) is an economic truism: It's impossible for a surplus of energy to exist for long. As prices fall, more and more uses for natural gas will appear. At some price, natural gas becomes competitive with other forms of energy.
A barrel of oil has 5.825 million British thermal units (Btu) of energy. (Btu is the standard measure of energy content across fuel types.) One thousand cubic feet (MCF) of gas contains just a little more than 1 million Btu – approximately a 6:1 relationship. Thus, on an energy-equivalent basis, you might expect natural gas to trade for one-sixth the price of oil – or about $16 per MCF today.
But of course, oil is more highly prized as a fuel source because it's more easily portable and thus a better fuel for transportation. Historically, the rule of thumb was that natural gas would generally trade about one-tenth the price of oil. That would imply a natural gas price today of about $10 MCF.
As you probably know, natural gas now trades for less than $2 per MCF, a price that's lost all relationship with its utility in the world's economy. There's no reasonable fundamental explanation for the size of the spread between oil prices and natural gas prices.
Natural gas is trading at the lowest price I've ever seen compared to the price of oil. There are few things in life I know with certainty… But I know this: Barring the end of the world, the price of oil is going to fall and the price of natural gas is going to rise.
The big problem with the natural gas markets isn't that there's too much gas. You really can't have too much energy. People will always consume it, if it's cheap enough. The real problem with the natural gas markets is there's no global distribution.
While the global economy has grown over the last decade (creating new demand for energy)… and natural gas supplies have soared… our ability to transport natural gas hasn't grown enough to equalize the global markets. That's why gas is so cheap in the U.S., but so expensive in Asia and Europe.
We have some parts of the world with far too much gas… and some parts of the world with far too little gas. Given the economics, I believe the best and surest way to profit is likely to be from owning the liquefied natural gas (LNG) tankers that will distribute natural gas to markets around the world. There's going to be a huge boom in these ships, which are expensive to build and operate.
So instead of focusing on the gas production companies… I think investors should focus on the distribution end – the LNG shipping companies. Fortunes will be made as entrepreneurs and investors build the ships and pipelines necessary to take advantage of the higher price of LNG across the world's markets.
It's not going to happen overnight… but years down the road, there will eventually be a large, global distribution system for natural gas. Prices around the world will converge. And those holding the best distributions assets will make a fortune.
Good investing,
Porter Stansberry
"My Favorite Gas Distribution Stock to Buy Right Now" [sponsor] If you'd like to read Porter's full commentary on opportunities in the natural gas space – which includes his favorite gas distribution stock to buy right now – you can access it immediately with a subscription to his Stansberry's Investment Advisory. Click here to learn more.
Source: Daily Wealth